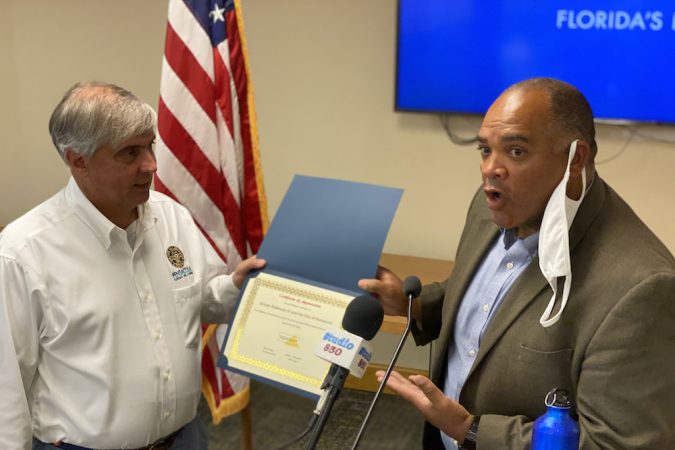 by Jeremy Morrison
Prior to getting into the meat of his weekly presser Monday morning, Pensacola Mayor Grover Robinson turned things over to Brian Wyer, executive director of the Gulf Coast Minority Chamber of Commerce, who thanked the mayor for his recent participation in the annual Pensacola Supplier Diversity Exchange event.
"He was just so charming, people in Tallahassee loved talking with him on the phone, we had some fun, laughed back and forth," Wyer said, presenting Mayor Robinson with a certificate of appreciation.
Conducted virtually this year, the diversity exchange program is an opportunity for minority-owned businesses to network and get a foothold in the world of government contracts.
"We had over a hundred attendees there, from all over the state and actually all over the region," Wyer said. "And we had great businesses, great agencies, and they just loved your hospitality and I appreciate you being there."
Complex Uncomplicated
Pensacola's new youth soccer complex located off of Langley Avenue at Hitzman Park is finally open. The complex — a collection of fields where the former YMCA was located — hosted its first Saturday of games this past weekend.
"I think the opening of Hitzman and people being out there — I got more good responses, people extremely excited about what Hitzman is now and the opportunity to be there," Mayor Robinson said, recounting feedback he's received since Saturday. "It was exciting to see that that's open and that everybody was very excited with the new fields."
The development of a soccer complex at Hitzman, as well as a land-and-services swap deal with the YMCA, was in the works prior to Robinson taking office and proved to be one of the more controversial endeavors of that first year. Neighbors in the Scenic Heights area expressed concerns ranging from traffic to parking to the associated roundabout on Langley, but the mayor said the complex seems to be humming along smoothly based on opening day.
"Overall, it certainly showed up for what we thought it could be when we started this process," Robinson said. "We knew it was going to be better for our children, our families and really what needed to happen. And I know there was really a lot of consternation about it, but I believe now that it's open that we're going to see that this was so much the right decision for the city and our citizens. I think it's going to be a great thing for our children and just better overall."
Homeless Quick Fix?
Last week, the Homeless Reduction Task Force of Northwest Florida presented its plan to the Pensacola City Council to spend $3 million in federal funds to address the needs of the homeless community. Dovetailing with the release of that plan — as aspects of it focus on getting homeless individuals into shelters or residences — the city intends to eventually disband a homeless encampment that is currently based underneath a stretch of I-110 overpass.
When city council considered approving an additional 90-day eviction moratorium for the camp last week while the city worked to transition people into shelters, task force leader Connie Bookman told members they needn't bother. She had received some incredibly positive community response since dropping the plan and expected the transition to happen quickly.
Mayor Robinson said Monday that he was optimistic, but less so that Bookman.
"Connie clearly said she thought she could be out of there in 30 days. I am not as optimistic as that," Mayor Robinson said. "But I certainly think in 120 days we should be able to make those things happen."
The mayor noted that the city has already helped some people who were living at the camp locate more permanent accommodations, and said that he expected to be able to do so for many more living there. However, eventually the city will clear the camp regardless, as the site is slated for a stormwater and greenway project.
"I think we're going to run up against a hard stop in 90 to 100 days, because we have other plans for the property," Robinson said.
The mayor also cautioned that the city would only be able to tackle so much of the homeless issue by itself, and urged other local governments to also enact similar plans to address the issue.
"We probably could make a tremendous dent. But if you're expecting the city of Pensacola to lift this boat on its own, it's not going to happen," Robinson said. "I mean, we can do what we can, we've proven that we can get people in transition, and we're proving that we're gonna set up stuff to go forward, but it's not something the city of Pensacola can lift by itself."
Masks, Vaccines & the Ghosting of COVID Deaths
With COVID numbers continuing to drop in the region, the city of Pensacola has rolled back its mask requirement inside municipal facilities for people who have been vaccinated. Mayor Robinson said Monday that people should expect city policy to evolve with the changing COVID data.
"There's going to be times when we go up and down," the mayor said, "and what we need you to do is work with us, and we promise you, when things get challenging, we're going to ask you to wear masks, but when things come down, you can trust us the government, we're gonna tell you, if stuff comes down, we don't need you to go there."
As of Monday, there are 137 local hospitalizations due to COVID and a 17.3 test positivity rate.
One stat that Mayor Robinson was unable to provide — as the state stopped tracking it in June — was the number of deaths recently due to COVID. Instead, Robinson noted that the decision to scrap the reporting of death data is "handled at a much high political level that I am," spoke about the illusive certainty of death in general and said the city would remain focused on hospitalizations as its guiding metric.
"I mean death is certainly — like I said before, knowing people who I have known, worked with, seen that have been killed by it is just, it's devastating," the mayor said. "But it's so hard to deal with. I mean, there's cancer, there's heart attacks, there's a lot of different diseases that are out there that kill and it's certainly hard to get to a point — we're all gonna find a demise one way or another, so I think death is a very hard position to be up against. What we have continued to do here is to say the real issue we try to deal with is hospital capacity."
While the state of Florida and local health departments no longer publicly track deaths due to COVID, the U.S. Center for Disease Control has begun issuing a county-by-county breakdown. For the week of Sept. 19-25, the CDC lists Escambia as having 85 deaths.
Mayor Robinson also spoke a bit about what impact the recently announced federal vaccine mandate for certain individuals, saying that he was unsure what impact the mandate might have on municipal employees.
"We'll have to see where we are and what's going to happen," Robinson said of the mandate's impact.
Currently, the city is offering employees a $100 incentive to get the COVID vaccine. Mayor Robinson said that the possibility of requiring newly hired employees to have a vaccine is being explored — "We're looking at everything we can look at" — but that the city cannot currently require anyone to get a vaccine.
"But we're looking at all those things," Robinson said.
City Administrator Keith Wilkins later confirmed that currently 53 percent of city employees are vaccinated. Additionally, he relayed, the city had briefly required new hired to have a vaccine, but scuttled that requirement when Gov. Ron DeSantis issued an order preventing such and threatening a $5,000 fine.