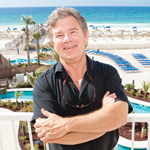 On Pensacola Speaks today, I will talk with CEO and founder of Innisfree Hotels, Julian MacQueen, about The Hive and their "From the Ground Up" sustainable garden that is being launched tomorrow.
Also its Celebrate Diversity Month at the University of West Florida and Eryka Wallace, Diversity Initiatives Coordinator at UWF, will be in the studio to talk about the events planned for April.
Pensacola Speaks airs on News Talk 1370 WCOA Monday-Friday from 5 p.m. to 6 p.m. You can call in and join the discussion – 850-478-3116. For iPhones and iPads, download the WCOA app from iTunes. For Androids, go to Google Play.
Podcasts of our interviews are on  PodOmatic and iTunes.  Download Podomatic app on iTunes or on Google Play.