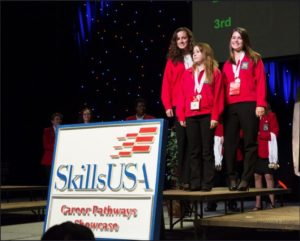 Seven Pensacola State College students won recognition at the 51st Annual SkillsUSA National Leadership Conference recently in Louisville, Ky.
Kathrin Bowyer, Mariah Moore, and Justina Tungol won silver medals in the Career Pathways Showcase in cyber security.
Career opportunities in cyber security are lucrative across the nation and there are many cyber security jobs available locally, according to PSC Dean of Workforce Education Dan Busse.
"We are in constant communication with our cyber security business partners to make sure PSC programs are offering exactly what they need and meeting the latest and highest industry standards. Our cyber security students are ready for work as soon as they are hired," Busse said.
Melissa Roberson won a bronze medal in practical nursing competition. Practical nursing is one of the fastest growing occupations in Escambia and Santa Rosa counties, according to data from the Florida Department of Economic Opportunity.
PSC has a 100 percent job placement level for practical nursing graduates in recent years, the data also shows.
"By assessing national, state and regional trends of nursing supply and demand and by responding to the needs of our local clinical affiliates, we are able to offer nursing programs that meet the needs of the community," said Dusti Sluder, PSC Director of Nursing.
Three PSC students also received skill point certificates for high scores defined by industry in competitions: Barbara Cherry, commercial baking; Jennifer Waggoner, cosmetology; and Kendall Whitley, customer service. Whitley also won fourth place in customer service competition.
More than 6,000 students from every state competed in 100 hands-on occupational and leadership contests, from aviation maintenance to criminal justice to public speaking. All contests are designed, run and judged by industry professionals using industry standards. SkillsUSA is a national organization for students enrolled in career and technical education programs.