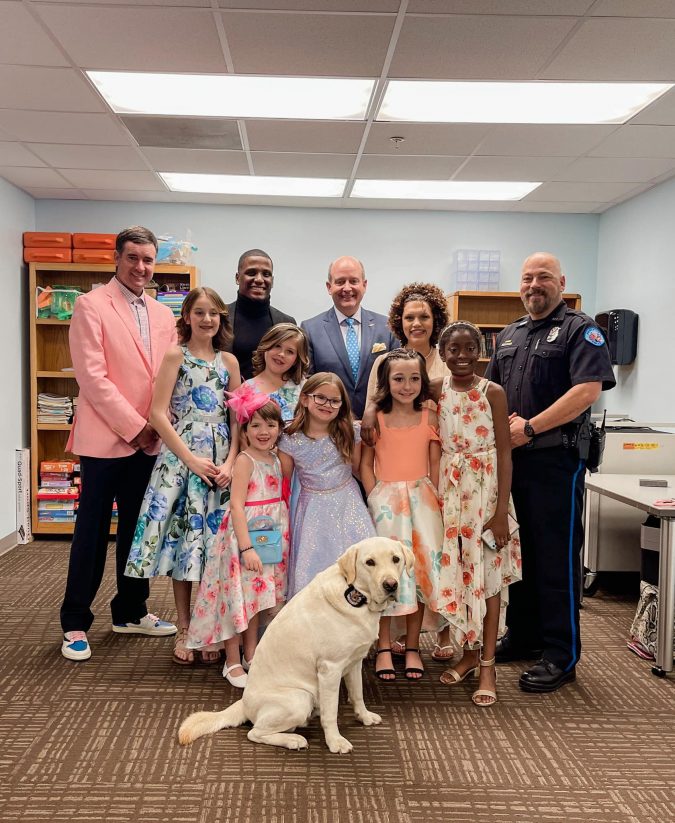 The Third Annual Rally On the Runway, sponsored by Sandy Sansing Dealerships, raised over $400K for Rally Foundation for Childhood Cancer Research. The signature event was held on March 31 at the Brownsville Community Center and raised critical funding to support advances in research for improved treatments, with fewer long-term side effects and, ultimately, cures for childhood cancer. Due to the COVID-19 pandemic this was the first time in three years people were able to attend the event in person.
The evening celebrated the bravery and resilience of all kids battling cancer. Twelve local Rally Kids (kids who have fought or are currently fighting cancer) walked the fashion runway in outfits donated by Dillard's. Each Rally Kid was escorted by a local celebrity, including two-time Master's Champion Bubba Watson, Washington Commanders Free Safety Jeremy Reaves, Pensacola Police Officer Kesley "Ike" Isenburg together with K9 Officer Taylor, and Captain Tim Kinsella, USN (ret).
In addition, the program included two powerful childhood cancer stories of bravery and strength. Speakers included Rally Mom Anamarie Mixson, whose six-year-old son Wyatt passed away February 2021 after an eight-month battle with childhood cancer. Rally Kid Arianna Villarreal, who was diagnosed with cancer at age 17, impressed the crowd with her composure as she told her story of her fight with cancer and the long-term side-effects that continue to impact her today. Pensacola native and recent star of Broadway's touring production of Wicked, Allison Bailey wowed the audience with a beautiful live vocal performance, as Pensacola Rally Kid images were honored in a video presentation.
"The Rally event means so much to me because we are helping kids fighting cancer, as well as their families. These kids, and families need all the help and encouragement that we can give them. Plus, we raised money to help with research to help find cures for this terrible disease affecting our children. I am so proud and honored to be able to help in this wonderful program", said Title Sponsor, Sandy Sansing.
Cindi Bonner, Director of Rally Pensacola, thanked the event sponsors, participants, supporters, and volunteers saying, "This sold-out event and record-breaking fundraiser shows our Rally families that not only are we praying for them, but our community has come together to support every child battling cancer in this community, and that together, we can make a real difference in finding better treatments and ultimately cures for childhood cancer".
Presenting Sponsors included: The Lewis Bear Company and KIA Autosport Pensacola.
About Rally Foundation for Childhood Cancer Research
Cancer is the number one disease killer of kids in America ages 1 to 19. Rally Foundation for Childhood Cancer Research (Rally), a 501(c)(3) nonprofit organization, empowers volunteers across the country to raise awareness and funds for childhood cancer research to find better treatments with fewer long-term side effects and, ultimately, cures. Since its founding in 2005, Rally has awarded $25.4 million in grants, funding research projects worldwide and has secured $29 million from the Department of Defense Medical Research Program for cancers in children, adolescents and young adults. For every dollar raised, 93 cents supports Rally's mission. Rally holds the highest rankings from Charity Navigator and GuideStar. For more information, visit RallyFoundation.org.