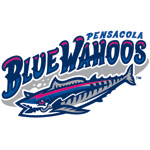 Press Release: Blue Wahoos catcher Kyle Skipworth has gotten the call from the Reds to become the first Blue Wahoos to be called up in 2015. Skipworth got the promotion as Reds All-Star Devin Mesoraco is experiencing discomfort in his left hip.
A non-roster invitee to big league camp at Spring Training, Skipworth played 19 games for the Reds and batted .240 with one home run. The 25-year-old was the sixth overall pick of the 2008 first-year player draft by the Marlins and played four big league games for them in 2013.
In three games for the Wahoos this season, he went 2-for-8 with a home run.
Activated from Billings is C Chris Berset, IF Ray Chang and RHP Drew Hayes. All three of these are familiar faces for Blue Wahoos fans with all three having played in Pensacola last season.
RHP Robert Stephenson has been placed on temporarily inactive list due to a personal matter.
RHP Daniel Corcino has been designated for assignment.