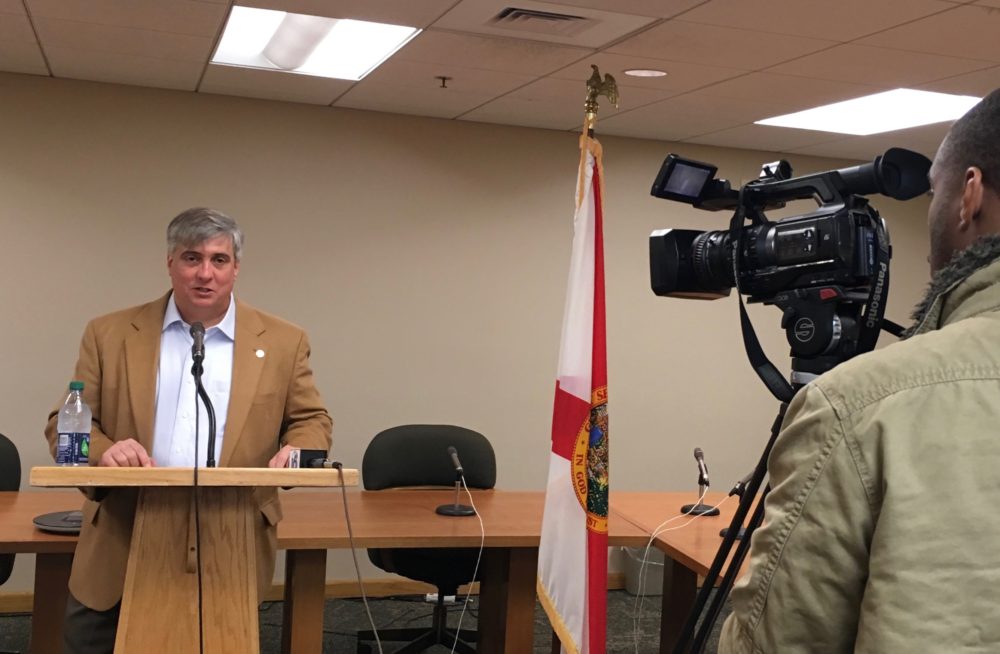 by Jeremy Morrison, Inweekly
Pensacola Mayor Grover Robinson spoke with Escambia County interim administrator Amy Lovoy regarding the prospects of coming to work at the city April 15, shortly before she turned in a resignation letter later that day amid a flurry of top level lay offs and a state investigation into the county's Emergency Medical Services.
"If she applied," Robinson said Monday during a morning press conference, "she'd be the the best applicant we had in that application pool."
Lovoy resigned last week, following other resignations at the county — the public safety director, the fire chief, the human resources director — and the investigation by the Florida Department of Health into Escambia EMS. Prior to taking on the interim administrator role, Lovoy was a longtime budget director for the county.
"She understands public accounting and public budgeting and does it very well," the mayor said.
Mayor Robinson said that City Administrator Chris Holley, unhappy with the city's list of applicants for the assistant budget director position, was already speaking with Lovoy about the position. The mayor spoke to Lovoy, who he worked with as a county commissioner, hours prior to her resigning, though he said he was unaware she intended to do so.
"All of the sudden last week I heard the challenges that were going on over at the county and did reach out to Amy and say, 'Is this something you're interested in?' And she said, 'It possibly could be,'" Robinson recalled.
The mayor said he was "kind of surprised" that Lovoy would take the assistant position.  He said that it would be two to three years before she took over for Budget Director Dick Barker.
"I didn't necessarily think it was going to be something that Amy was looking for," Robinson said, later saying he'd like her on the city's bench. "If I had the opportunity to get someone of her caliber, I'd be more than happy to bring her along."