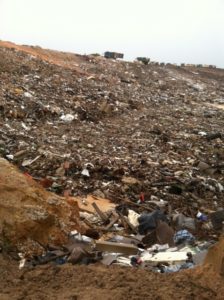 According to Escambia County Administrator Jack Brown, the bonding company for Rolling Hill C&D landfill has surrounded the bond for the closure of the facility in the Wedgewood neighborhood – $651,633.
Brown shared this email from Shawn Hamilton, Northwest District Director for the Florida Department of Environmental Protection.
From: Hamilton, Shawn
Sent: Wednesday, October 14, 2015 5:21 PM
To: Jack R. Brown
Subject: RH Bond

Jack,

The bonding company has opted not to move forward with the closure and has informed the department that they have deposited the complete sum of the bonded amount into a trust. I'll update you on our next steps once we have verification of funds.

Thanks

Shawn hamilton
Director, Northwest District
Department of Environmental Protection
Brown told Inweekly that DEP will now assume responsibility for the closure of the landfill next to the Marie Young Community Resource Center.