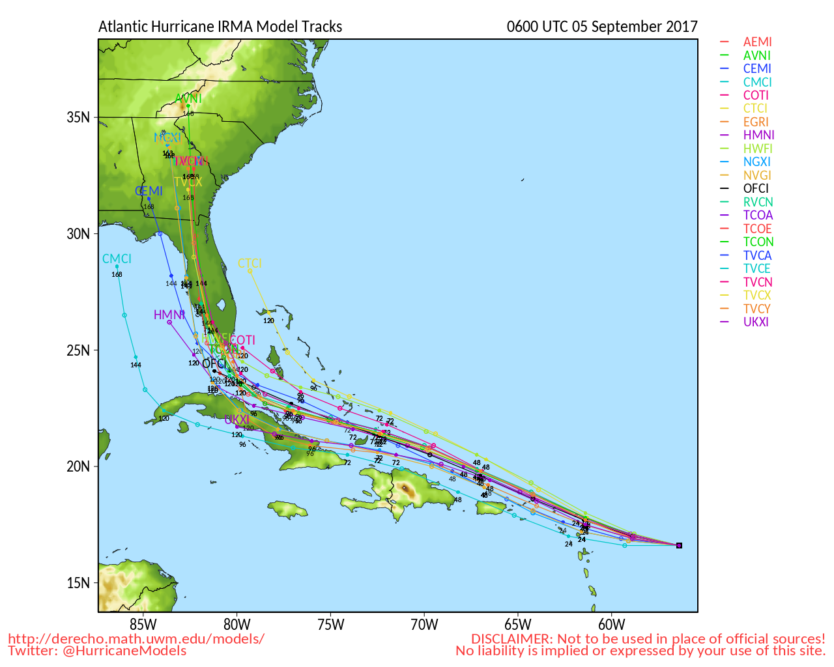 By JIM TURNER
THE NEWS SERVICE OF FLORIDA
Gov. Rick Scott on Monday placed all of Florida under a state of emergency as the projected path of Hurricane Irma could take the powerful storm toward the southern tip of the state by the end of the week.
The declaration is intended to give local governments in all 67 counties time to prepare, the governor's office said.
"Hurricane Irma is a major and life-threatening storm and Florida must be prepared," Scott said in a statement.
"Today, given these forecasts and the intensity of this storm, I have declared a state of emergency for every county in Florida to make certain that state, federal and local governments are able to work together and make sure resources are dispersed to local communities as we get prepared for this storm," he added.
Scott has been advising people the past couple of days — through Twitter — to prepare for the storm by visiting the Florida Department of Emergency Management's disaster page: floridadisaster.org/getaplan/.
"Families should take time today to make sure you have a disaster plan and fully-stocked disaster supply kit," Scott tweeted on Monday. "I am continuing to coordinate with emergency management officials as we monitor Hurricane Irma."
As of 5 p.m. on Monday, the storm system, with maximum sustained winds of 130 mph, was located about 490 miles east of the Leeward Islands, which are about 1,400 miles east of South Florida.
The storm was moving towards the west at 13 mph.
The National Hurricane Center said Monday that while it's too early to determine where the storm will go, "There is an increasing chance of seeing some impacts from Irma in the Florida peninsula and the Florida Keys later this week and this weekend."
Irma threatens Florida little more than a year after Hurricane Hermine made landfall in Northwest Florida. Hermine was the first hurricane to hit the state in more than a decade.
The new storm also threatens amid recovery efforts in Texas after the catastrophic Hurricane Harvey.
"In Florida, we always prepare for the worst and hope for the best and while the exact path of Irma is not absolutely known at this time, we cannot afford to not be prepared," Scott said in Monday's statement. "This state of emergency allows our emergency management officials to act swiftly in the best interest of Floridians without the burden of bureaucracy or red tape."
---
The Escambia County Emergency Operations Center sent out this information:
Escambia County Emergency Management is closely monitoring Hurricane Irma.  Residents are urged to do the same by monitoring our local media for the most up-to-date forecasts daily.
According to the National Hurricane Center, there is an increasing chance that the Florida Peninsula and Florida Keys will see some impacts later this week and weekend. However, it is still too early to determine what direct impacts Irma might have on Escambia County and Northwest Florida as there is no reliable way to forecast potential impacts to an area that is more than about five days away from a specific location.
While Hurricane Irma may not come our way, our residents should take the time now to double check their storm supplies and preparations so that when a confirmed threat develops, they are ready. The key to reducing the stress and impact on your family is to prepare by having a plan, getting a kit and staying informed:
Review or make a family plan. This includes:

Knowing your evacuation zone. Check your zone online by clicking here.
Know where you will go. If you live in an evacuation zone, know where you will go and how you will get there.  Will you go to a friend or relative's home, a hotel, or as a last resort, a public shelter? It is always easier to go tens of miles, not hundreds.
Have a communication plan. Plan now how you will contact one another and where you will meet.
Plan for those with special needs. Make arrangements in advance to accommodate those in your family with special needs like the elderly, children and pets. Always have at least an extra three day supply of medical supplies, medication and any other special items you may need.
Understand Watch vs. Warning, the hurricane cone and what steps you need to take when. Learn more by clicking here.
Take photos of important documents and your valuables. Save these to a secure cloud site or keep on your mobile device.
Get a Kit – Your disaster kit should have at least three days of nonperishable food and three gallons of water for each person and pet in your home, along with other supplies. Click here to see our latest disaster guide shopping list.
Stay Informed – A tropical system can develop very quickly. Be sure you take time every day to monitor the local media. Escambia County also has several tools available for our residents:
---
According to the latest NOAA models, Irma could reach the Gulf of Mexico Saturday morning. However, several models have it traveling up the east coast of Florida or hugging the west side of the Peninsula.