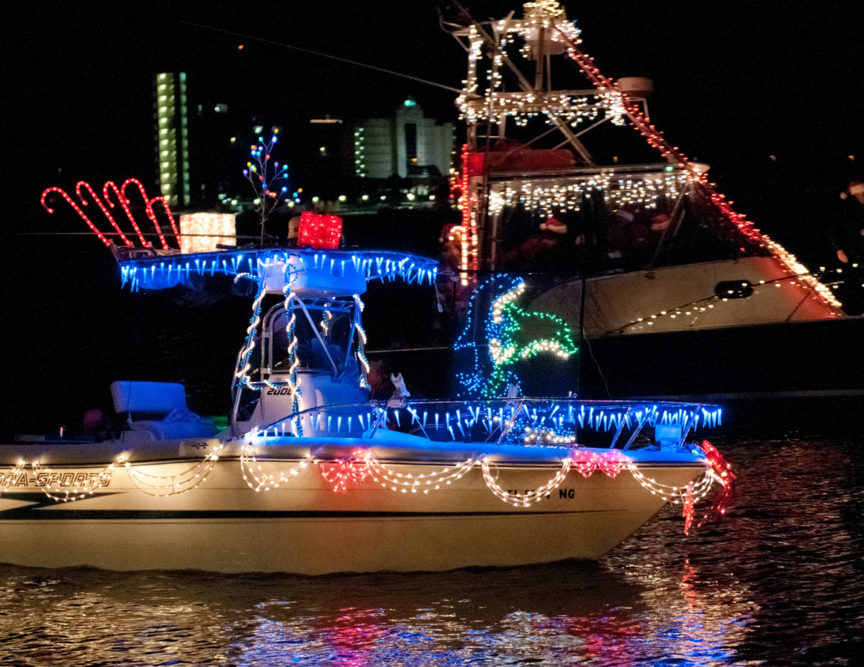 Pensacola, Fla. – Looking for a unique winter wonderland this holiday season without the frigid temperatures? Pensacola Beach, with its sugary-white sand, offers guests a guaranteed white Christmas and is jam-packed with "island style" holiday activities guaranteed to get even the worst Scrooges in the spirit.
It all kicks off with the Lighted Boat Parade.
Lighted Boat Parade – Saturday, Dec. 3, at 6:30 p.m.
A kid's pre-show party will kick off the night's festivities from 4 to 6 p.m. at Shaggy's Pensacola Beach waterfront restaurant on Little Sabine Bay.
The Lighted Boat Parade will set sail at 6:30 p.m. from Sabine Marina and make its way around the Santa Rosa Sound to the Pensacola Beach Boardwalk where it will dock by about 7:30 pm.
Directly following the boat parade, a dazzling firework display will take place from the boardwalk at about 8 p.m.
Surfing Santa Beach Parade – Sunday, Dec. 4, at 2 p.m.
Thousands of children, parents and other spectators make their way to Pensacola Beach on Sunday to see Santa Claus making his way down Via De Luna Drive atop a Pensacola Beach fire truck at the annual Surfing Santa Beach Parade.
Cat Country radio personality Brent Lane will be this year's parade Grand Marshal. Starting at 2 p.m. from Avenida 10, the parade will make its way down Via De Luna toward Casino Beach and end at the Gulfside Pavilion, where kids will be able to meet and greet with Santa until 3 p.m.
New Year's Eve Firework Displays ­– Saturday, Dec. 31, at 8 p.m. and Midnight.
Keep your eyes focused on the Pensacola Beach skies this New Year's Eve for not just one, but two, free firework displays along the Pensacola Beach Boardwalk.
At 8 p.m. a dazzling light display, provided by the beach chamber, will take place overlooking the Santa Rosa Sound from the Pensacola Beach Boardwalk.
For those who want to ring in the new year at midnight, Casino Beach Bar & Grille is hosting a New Year's Eve Black & White Party beginning at 9 p.m. with door prizes, drink specials, and prizes for best dressed. The party culminates with a midnight fireworks show on the beach over the Pensacola Beach Gulf Pier.
Polar Bear Plunge – Sunday, Jan. 1, at 2 p.m.
Need an exhilarating rush to help kick off your new year? Head to Pensacola Beach and plunge headfirst into the Santa Rosa Sound at the annual Polar Bear Plunge.
Hosted by Paradise Bar & Grill, hundreds of dippers and spectators – many dressed in costume – flock to the beach to participate in this long-established tradition.
Registration begins at noon and the fee is $15 per person. Cub Club participants – those in fifth-grade or younger – can register for $5. Participants will receive a Polar Bear Plunge t-shirt. All proceeds go to the Pensacola Beach Chamber of Commerce.
For those wanting to participate and compete in the Lighted Boat Parade, the deadline to register will be Thursday, Dec. 1. The entry fee is $35 per boat. Compete for cash prizes and bragging rights.
A Captain's meeting will be held on Thursday, Dec. 1 at 6 p.m. at the Sandshaker Lounge and Package on Pensacola Beach for all boat parade participants. For more information, go to www.pensacolabeachchamber.com or contact Alison Westmoreland at 850-932-1500.
All event times are subject to change based on weather conditions. For weather updates, check the Pensacola Beach Chamber of Commerce Facebook page for the latest news.