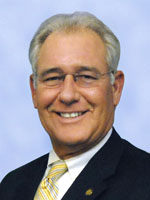 The Florida Legislature has recently approved the funding for many key transportation projects across Northwest Florida.
"As a member of the Senate Transportation Committee, it is my great honor to have worked with other Legislators and our local County and City officials to bring these projects to fruition", said Greg Evers (R-Baker). "This is going to help us shape Northwest Florida in the coming years as we continue to grow".
Among the highlights of the newly-presented projects across Northwest Florida are these:
Escambia County
Funding for the design of increased capacity for SR 10 (US 90A) 9 Mile Bridge from SR 8 (I-10) to SR 297 Pine Forest Road.
Funding for the resurfacing of SR 295 Navy Blvd from East of New Warrington to SR 10A (US 90).
Funding for the resurfacing of SR 742 Creighton Road from East SR 291 Davis Highway to SR 10A (US 90) Scenic.
Santa Rosa County
Funding for the construction of SR 30/10 US 98/90 corridor management improvement projects.
Okaloosa County
Project development and environmental study for the replacement of Brooks Bridge.
I-10 Lighting – lighting the CR 189/ Holt Road interchange.
PJ Adams Parkway Widening – Right of Way purchasing from Wildhorse Drive to I-10.
PJ Adams Parkway Widening – Funding for construction from Ashley Drive to SR 85.