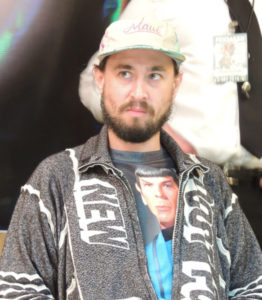 Will Lemon defeated reigning StareMaster champion Dave Wiggin at last night's Rematch of the Decade held at the Saenger Theatre in downtown Pensacola.
Ten years ago, Wiggin, a Pensacola native, bested Lemon, who represented New York City, in the world championship held at JFK airport. For nearly 20 minutes the ocular combatants battled until a cork flew on the stage, forcing Lemon to lose his concentration.
At a press conference held yesterday afternoon at Sluggo's, Wiggins bristled when he was asked if his victory at JFK was tainted. The Staremaster judges stepped in and said that the Saenger provided a more controlled environment – which was indeed the case. No corks popped on Saturday night, at least not in the Saenger.
Writer/Director Kevin Smith of "Clerks," "Dogma," and "Chasing Amy," fame, will be producing a second Staremaster documentary with local company Kinematic Entertainment. Video-conferencing into the Saturday press conference, Smith, who played Silent Bob in several films, said, "I can be silent no longer. This is something that has really captured my imagination."
Last night's rematch and the press conference were part of Pensacon and will be included in the new film.