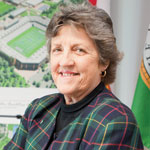 Judith Bense, president of the University of West Florida since 2007, received approval Thursday to remain in the post as the Pensacola school plans to start looking for a new leader.
The state university system's Board of Governors unanimously confirmed the reappointment of Bense — a move that came after the University of West Florida Board of Trustees voted to extend her contract through December 2016. In a June letter to the Board of Governors, University of West Florida trustees Chairman Lewis Bear said the university anticipates starting a search for a new president this fall.
Board of Governors Chairman Mori Hosseini praised Bense for making changes as the state has moved toward more of a performance-based funding system for universities.
"Judy, you outdid yourself," Hosseini said to Bense, who was at the board's meeting in Gainesville.
source: The News Service of Florida