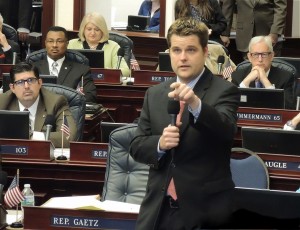 LAWMAKERS PITCH REGULATIONS FOR FANTASY SPORTS
Two Republican lawmakers are filing legislation that would regulate the daily fantasy sports industry, which is the subject of a federal probe and lawsuits in Florida and other states focused on whether the popular online games are illegal gambling. Sen. Joe Negron of Stuart and Rep. Matt Gaetz of Fort Walton Beach — both lawyers — issued a press release Tuesday with a draft version of their proposal. The legislation would require all fantasy sports game operators to register with the Florida Department of Agriculture and Consumer Services and impose restrictions on who can play the games. Employees, family members and owners of the fantasy sports websites could not participate in the games, and employees also could not share confidential information that could affect fantasy game played with third parties until the information is publicly available. Players, officials and others affiliated with real sports teams could not participate in any fantasy game that is determined by the performance of the player, the team or the accumulated statistics of the team or player. Three million Floridians currently play some sort of fantasy sports games, according to industry insiders. "I do not believe that these Floridians should be at risk of criminal prosecution for doing nothing more than participating in the fantasy sports contests they enjoy. However, due to a dated attorney general opinion, there is a need to clarify in Florida law that fantasy sports are legal, as well as institute commonsense regulations that address consumers," Negron, who is slated to become the next Senate president, said in the press release. The fast-growing daily fantasy sports industry is under scrutiny by prosecutors in New York and Tampa, where the U.S. Attorney's Office recently subpoenaed the Florida-based Fantasy Sports Trade Association. Daily fantasy sports companies DraftKings and FanDuel, and the association have hired some of the state's most influential lobbyists, and the association contributed at least $70,000 to political committees led by Florida lawmakers in September. Senate President Andy Gardiner, R-Orlando, told The News Service of Florida last month that he's asked his lawyers to check into the fantasy sports industry, in which players pay entry fees to draft "teams" that compete against each other for cash prizes based on the actual performance of athletes.
RHEA CHILES FUNERAL SET FOR MONDAY
A service will be held at 11 a.m. Monday at Tallahassee's Faith Presbyterian Church for former Florida First Lady Rhea Chiles, who died this weekend at her home in Anna Maria Island. The widow of the late Gov. Lawton Chiles was 84. Rhea and Lawton Chiles, who met when they were students at the University of Florida, were married from 1951 until his death in 1998. Lawton Chiles considered Rhea Chiles his political partner. It was her idea for Chiles, then a Democratic state senator from Lakeland, to walk the length of the state as part of his run for the U. S. Senate in 1970. As a result, he became known as "Walkin' Lawton" and won the election, serving three terms in Washington. He was elected governor in 1990 and died shortly before his second term was slated to end. Rhea Chiles is survived by her four children — Tandy Chiles, Lawton ("Bud") Chiles III, Ed Chiles, and Rhea Gay Chiles — along with a number of grandchildren and great-grandchildren. In lieu of flowers, donations may be sent to the Children's Home Society or the Lawton Chiles Foundation.
HOUSE AND SENATE CONSIDER MEDICAL MARIJUANA BILLS
House and Senate panels next Tuesday will consider proposals that would allow terminally ill patients to obtain medical marijuana to help cope with pain, according to legislative calendars. The House Criminal Justice Subcommittee is slated to take up a bill (HB 307), sponsored by Rep. Matt Gaetz, R-Fort Walton Beach, and Rep. Katie Edwards, D-Plantation, during a Tuesday morning meeting. Hours later, the Senate Health Policy Committee is scheduled to consider a similar proposal (SB 460), filed by Sen. Rob Bradley, R-Fleming Island. The bills piggyback on a law passed earlier this year that allows terminally ill patients to gain access to experimental drugs that have not been approved for general use by the U.S. Food and Drug Administration. That law, dubbed the "Right to Try Act," is limited to patients who have terminal conditions and requires that they get approvals from two physicians. Lawmakers are considering extending the law to allow the use of medical marijuana. Both bills are filed for the 2016 legislative session, which starts in January. They also come as a political committee known as People United for Medical Marijuana seeks to get a broader medical-marijuana initiative on the November 2016 ballot.