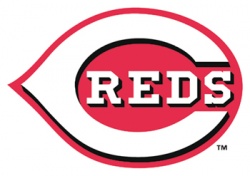 By Jeremy Morrison—
The downtown office is a scene of change. On one side of the front room is surplus Pensacola Pelicans gear for sale. On the other are grandiose plans — architectural renderings, a dry-erase board brimming with notes, a lone stadium seat — for to city's new Double AA ball team, the Blue Wahoos.
In a small room to the side Bill Bavasi, special assistant to the General Manger of the Cincinnati Reds, spent a recent Tuesday afternoon speaking with the local sporting press. He was in town visiting the Reds' new Double AA affiliate.
"Never been here before I got here at 11 o'clock," Bavasi said, adding that he liked the city so far, and that the perception of Pensacola in Cincinnati was encouraging. "Our people would term it as up and coming — a jewel, something that's unknown, that's about to explode."
Bavasi also enjoyed getting a look at the new Community Maritime Park stadium — "if you hop the right field fence you get wet" — and said his organization felt confident that the team behind the Wahoos could get it completed in time for the 2012 baseball season.
"They've been around the block, they get it," Bavasi said, singling out Wahoos' President Bruce Baldwin. "It'd be hard to turn the keys over to someone who doesn't have experience."
Once Double AA action begins at the new ballpark, Bavasi said Pensacola could expect talented, raw play; he calls the league the "most-exciting level" in the minor league system. Players in the Double AA league — which feeds into Triple AAA, then the majors — are still in what he calls the "age of innocence."
"This is usually the separating level, whatever cliche you want to use — men from the boys, rubber meets the road," Bavasi said. "These kids that come through here, if they're doing it right, they're here for a year, tops."
In addition to quality baseball, Bavasi said he believes a minor league team also provides its host city with increased revenue. 
"It's great financially," he said. "I think more importantly, it's a pride factor."
Bavasi has had a long history in baseball. Born into the sport — his father was in the business, so is his brother — Bavasi has worked for the California/Anaheim Angels and Los Angeles Dodgers. Prior to his position in Cincinnati, Bavasi was the general manager of the Seattle Mariners.