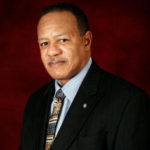 Charles D. Thornton, Sr. was elected president of the Pensacola Branch of the NAACP on November 13, 2014.
Mr. Thornton will assume office on Jan. 1, 2015 during the annual Emancipation Proclamation Celebration at Houser Memorial AME Church, 710 Jordan St. The Emancipation celebration will began at 10 a.m.
The event is held every year under the auspices of The Emancipation Day/Black History Committee which was begun by Rev. S.E. Chatman, the deceased former pastor of Talbot Chapel AME Zion Church.
Thornton has set as his goal to closely integrate the activities of the NAACP to match the needs, concerns, and challenges currently facing the community.
"This means the Pensacola Branch will increase its visibility, responsibility, and accountability within the community," he said in the press release sent to the media.