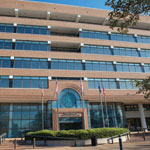 The mayor's office has narrowed down to 67 applicants for the two assistant city administrator positions created this past August.
Five finalists were shortlisted, but PNJ reporter Will Isern is reporting that two have since withdrawn their names, leaving Escambia County Director of Community and Environment Keith Wilkins, Casey Street and James Labar. Helen Dey Valdez and Terrence Neuzil dropped out.
Wilkins is well-known. He worked with City Administrator Eric Olson on RESTORE funding.
Street has B.A., Political Science from Yale University and is working on a MBA from Mississippi State University. Since August 2012, he has been Chief of Staff from Mississippi Congressman Steven Palazzo. He is a Pensacola native.
Labar has Bachelor's degree in History from University of Cincinnati, M.A., Public/Applied History from UWF and is a Ph.D. candidate at Arizona State University. Since July 2015, he has been the Regional Solutions Coordinator – Mid-Valley for Oregon governor's office.
From his Linkedin: "I am a public affairs specialist with 12+ years of experience working for SRP (Salt River Project), an award-winning and uniquely complex organization that provides water, power and telecommunications to more than 2 million people in Central Arizona. SRP is responsible for the economic development foundation for Phoenix's economy. As Manager of Strategic Engagement, I redesigned SRP's relationships with political, business and community leaders, which directly led to successful and measurable outcomes in the public policy arena."
All three appear qualified. All three have Pensacola connections.