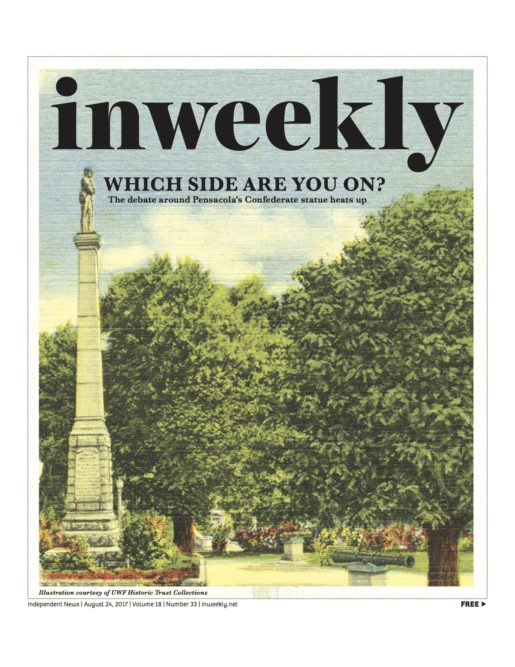 Which Side Are You On?
One of William Faulkner's most quoted lines still speaks to us today: "The past is never dead. It's not even past."
Mayor Cleared?
Through a public request of Beggs & Lane law firm's billings to the City of Pensacola, Inweekly learned that the three-year federal bribery investigation of Mayor Ashton Hayward has concluded and no criminal charges would be filed. And the taxpayers picked up the tab without a word from the mayor's office.
Taking Apart the Affordable Care Act
After beating cancer for the second time, there are two things Nancy LaNasa is grateful for: her health and her healthcare.
The Black Hole of the County Budget
The black hole sucking up the county's revenues is the Escambia County Jail, whose budget has jumped from $28.3 million when it was under control of Sheriff David Morgan to $40.8 million under the county's supervision in just four years.
The Domestic Violence Problem
A Milton man killed his wife on the porch with a hatchet in an argument over money on Feb. 22. A Pensacola woman stabbed her 18-year-old son to death and left her daughter severely injured in the street on Jan. 24. Despite the best efforts of local social advocates and law enforcement agencies, domestic disputes continue at an alarming rate in the greater Pensacola area, sometimes escalating to horrific murders.
Newpoint: Charges and Possible Cover Up
Marcus May, the founder and owner of the Newpoint Education Partners charter schools in Escambia and six other Florida counties, and Steven Kunkemoeller, owner of School Warehouse, Inc. and Red Ignition, Inc., were charged on June 19 with racketeering and organized fraud in connection with fraudulent schemes involving public charter schools.
Pensacola's Panhandling Dilemma
The homeless and panhandling have been problems for Pensacola Mayor Ashton Hayward since he took office in 2011. Several times, he has attempted ordinances to deal with them. Each time he and other city officials have walked away with no lasting resolution and political black-eyes.
Heroin Crisis Hits Home
In the First Judicial District, which stretches from Escambia to Walton County, heroin-related deaths were once rare. Only nine such deaths occurred from 2001-2013. In 2014 alone, the medical examiner reported 12 heroin-related deaths. The next year, the deaths more than doubled to 28. The 2016 report hasn't been completed, but the death toll for the first six months was 14.
Port Needs a Plan
The Port of Pensacola is dying. Its four major revenue sources dropped nearly 30 percent from FY 2012-FY 2016.
Keeping Escambia County Schools Safe
Don't expect the Escambia County School District or local authorities to be forthcoming, especially if it involves violence or guns on campus.