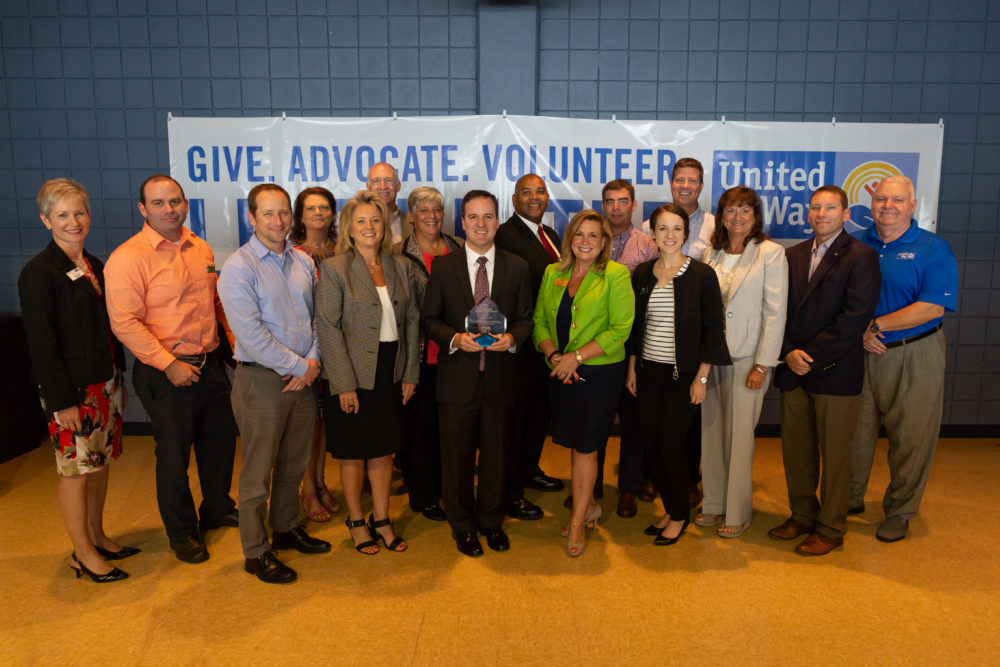 United Way of Escambia County celebrated the successes they shared with partner agencies, donors, and volunteers over the past year on Thursday at Sanders Beach-Corinne Jones Resource Center. WEAR ABC 3 News' Senior News Anchor, Sue Straughn, emceed the event that highlighted the community's accomplishments in the fight for the health, education, and financial stability of every citizen in Escambia County.
Following a welcome from United Way Board Chair, Yvette McLellan, President and CEO, Laura P. Gilliam, offered a detailed year in review, touching on the impacts of United Way programs and those of partner agencies. "They say that you celebrate what you want to replicate," Gilliam said. "We have much to celebrate today because last year, with your help, many individuals and families regained their health, achieved success in school, and became financially stable."
The program also included recognition of United Way's Top 5 Workplace Campaigns and the generous contributions of affinity groups. "With their gifts of time, talent, and treasure, they can inspire hope and create better opportunities for so many others in our community," said United Way Director of Development, Kelly Jasen.
United Way thanked partners for helping leverage $3 million in funds to create a $10.2 million impact before recognizing individuals and organizations for their stellar contributions to our community
In closing the program, Gilliam remarked, "To win this fight, we must be innovative, accountable, and collaborative. We must inspire and engage donors, advocates and partners, like you, to get involved."
AWARD RECIPIENTS:
Rayell Irish "Color a Brighter World": Krissy Smith, Big Brothers Big Sisters
United Way Partner Agency of the Year: Health and Hope Clinic
Business Partner of the Year: KIA Autosport of Pensacola
United Way Service Award: John Floyd, Gulf Power Company
Distinguished Community Service Award: David Peaden, Home Builders Association of West Florida
UNITED WAY TOP 5 CAMPAIGNS: 5) Regions Bank, 4) Navy Federal Credit Union, 3) Ascend Performance Materials, 2) Publix Super Markets, 1) Gulf Power Company.
UNITED WAY OF ESCAMBIA COUNTY 2018-19 BOARD OF DIRECTORS: Yvette McLellan (Chair), Jack Lowrey (Chair Elect), Tammy Davies (Treasurer/Women United Chair), Patrice Whitten (Secretary), David Peaden (Past Chair); Committee Chairs: Chris Scales (Campaign Co-Chair). Executive Members: Amy Miller (Campaign Chair), Wes Hudgens (Community Investment Chair), Tim Stronko (Advocacy/2-1-1 Chair), KC Gartman (Community Impact Chair), Meri Asmar (Human Resources), Oliver Sumlin (Nominating Committee). Continued Service: Michael Collette, Cedric Durre, Cathy England, John Floyd, John Hosman, Daniel Joyner, Trip Maygarden, Todd Phillips, Jo McArthur, Johnathan Taylor, Carlton Ulmer. Incoming Members: Donna Edwards, Clare Haenszel, and Bryan Wyer.