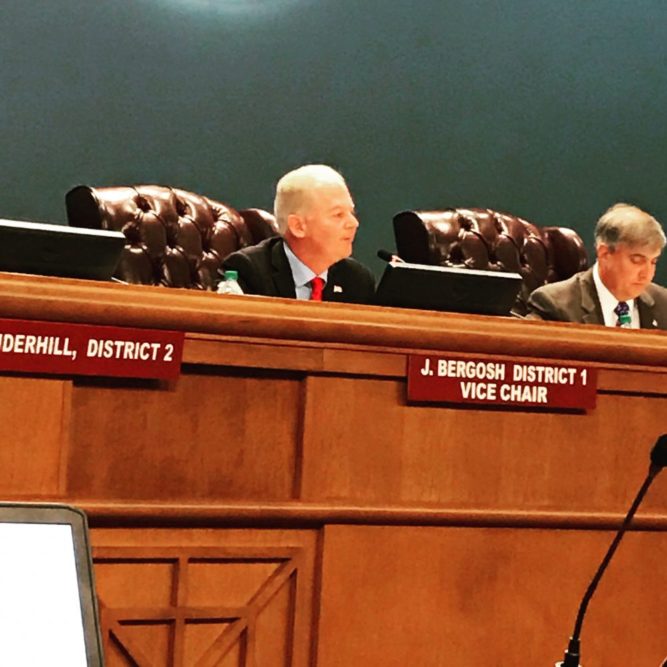 New Escambia County Commissioner Jeff Bergosh has followed the lead of his fellow board members. He has to public meetings this month.
He will hold a community town hall meeting Tuesday, Feb. 21 from 6-7:30 p.m. at the Beulah Community Center at Windy Hill Baptist Church, located at 9896 Rebel Road.
Bergosh will discuss OLF-8, master planning for Beulah, drainage, growth management, fire service issues, roadway/intersections safety and many other topics of interest with members of the public who attend. This is the first of six town hall meetings planned throughout District 1.
Commissioner Bergosh will begin monthly "Coffee with the Commissioner" events where he will meet in the mornings before work hours with residents. The first event will take place Wednesday, Feb. 22 from 6:30-7:30 a.m. at the Hardee's located at 2500 Wilde Lake Boulevard in Pensacola.
For more information, contact District 1 Aide Debbie Kenney at 850-595-4910 or district1@myescambia.com.
For District 1 updates, follow @MyDistrict1 on Twitter, or sign up to receive District 1 email updates by visiting myescambia.com/district1 and selecting the "subscribe" button found on the top right corner of the page.
—–
The Hayward Administration has held no town hall meetings in February. Councilwoman Sheri Myers will hold the only public meeting among the seven city council members: Carpenters Creek and Bayou Texar Charrette on February 21 at 6:30 p.m. at Asbury Place, behind Cokesbury United Methodist Church, located at 5725 N. 9th Ave.
However, the Hayward Administration created two YouTube videos this month:
Stormwater Management – Carpenters Creek (260 views)
and, Moment with the Mayor (96 views)