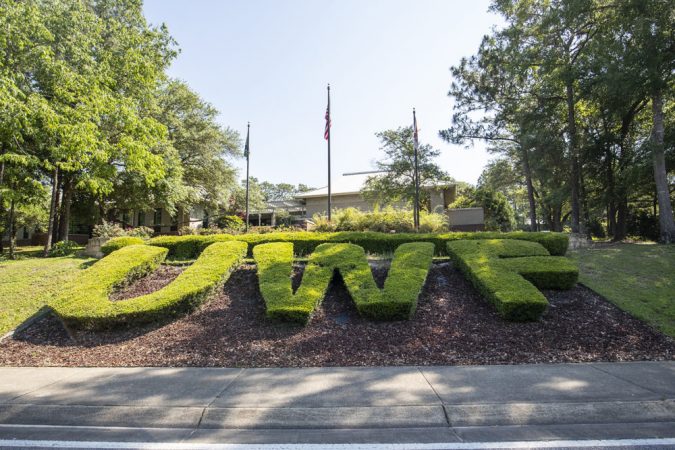 Pensacola, Fla. – March 2, 2022 – The University of West Florida College of Business has hired retired U.S. Navy Capt. Tim Kinsella to create and direct its newly formed Center for Leadership, effective March 1. Kinsella is charged with building University-industry linkages for the Center as well as creating leadership development programs for the University and community.
"I am excited about the opportunity to bring Tim on board to expand our leadership offerings," said Dr. Rick Fountain, dean of the College of Business. "It will enhance the College of Business graduate programs to have a marquee leadership program with his national and international contacts."
Kinsella will serve as the chief spokesperson for the new center, collaborating with internal and external stakeholders to build it into a recognized, go-to resource for fostering leadership. The new Center for Leadership will house existing College of Business centers and programs including the Center for Entrepreneurship, the Louis A. Maygarden, Jr. Center for Financial Literacy, the Supply Chain Management Excellence Center and the Executive Mentor Program.
"I am thrilled to become part of the Argo family," Kinsella said. "This is a very special opportunity to build a marquee leadership program at a marquee university and I am deeply honored that President Saunders would entrust it to me. The Center for Leadership will ultimately be an engine for developing modern leaders and creating a path for them to reach their full potential, and I can't think of a better place to develop tomorrow's leaders, today, than right here at UWF."
Kinsella joins UWF following over 33 years of service in the U.S. Navy. He enlisted in the U.S. Navy in 1989 and served on submarines for several years before being accepted to the U.S. Naval Academy. He graduated from the Academy in 1996 with a Bachelor of Science in Political Science. During his time in the military, Kinsella served overseas on numerous deployments. His last assignment on active duty was as Commanding Officer of Naval Air Station Pensacola, where he led the installation through a devastating terrorist attack, a catastrophic hurricane and a global pandemic.
For more information about the UWF College of Business, visit uwf.edu/cob.