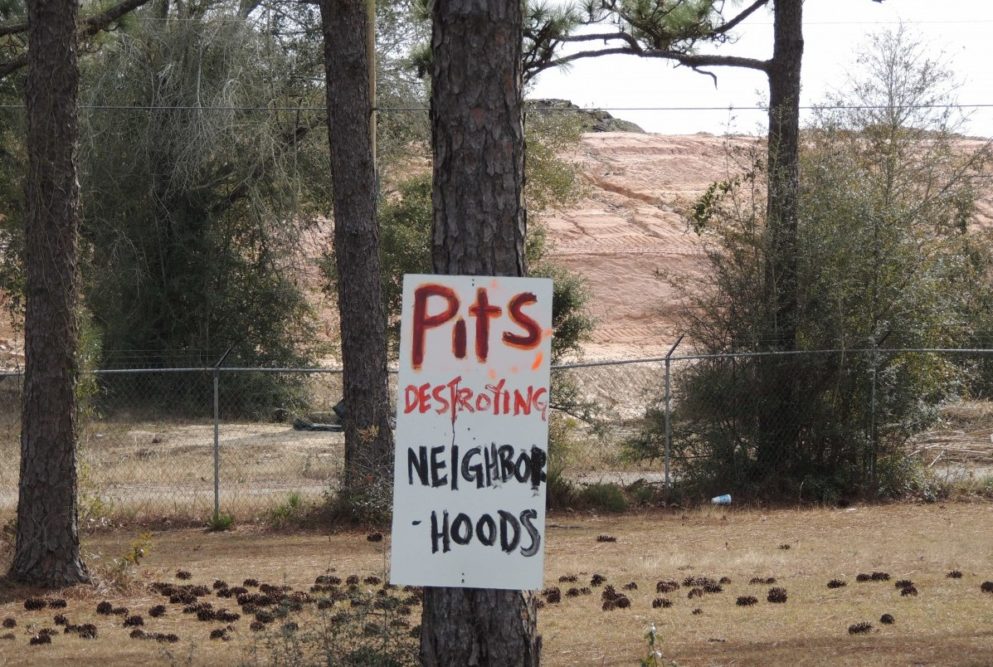 By Duwayne Escobedo, Inweekly reporter
LaFanette Soles-Wood demanded the cleanup of contamination from the Rolling Hills C&D Recycling site continue.
The Wedgewood native blames the site for trouble breathing and stinging eyes. It's part of a few symptoms from a long list of ailments and diseases she and her neighbors have blamed on the facility for decades.
"Yes, the (county) has done some good things for us," Soles-Wood said. "But a lot more needs to be done."
Escambia County plans to start testing surface waters again surrounding the more than 145-acre recycling facility that has allegedly polluted the air, water and soil of the Wedgewood community.
Court-ordered water testing by South Palafox Properties, which owns the dump, stopped March 24, 2017. Those samples found higher than allowed levels of iron, dissolved solids, sulfate and arsenic.
Polluted groundwater at Rolling Hills allegedly contaminates water that runs off from the site and flows into the headwaters of Marcus Bayou and, eventually, into Perdido Bay.
At last week's county commission meeting, Chiarman Lumon May, whose District 3 includes the area, reacted with anger and disappointment in the failure to do water testing for nearly two years.
"I'm appalled there has been no water testing! It's unacceptable!" May said. "We have to be their advocate. They have no one else."
District 1 Commissioner Jeff Bergosh agreed with May.
"It is appalling," he said. "If the Florida Department of Environmental Protection is not making it happen then we have to make it happen."
State DEP officials did take three surface water samples Feb. 19, 2018 all south of Rolling Hills but have yet to release any results.
DEP revoked the dumping permit at Rolling Hills in 2015 after discovering the recycling facility took more than non-hazardous material. It also accepted household trash, tires and vehicle oil among other things. DEP has filed a contempt of court case that's pending against the company.
Escambia County had halted dumping there in 2014.
Landfill owners turned over its $644,000 bond to DEP to cleanup the site.
AECOM Technical Services of Sunrise, Fla., earned a $1.7 million contract in July 2016 from the state environmental agency to clean up the area contaminated with high levels of metals and arsenic. The project was supposed to be completed by March 2017. However, it was pushed back three times to March 2018 and payment was bumped up to $2 million but the contractor still has yet to finish the job.
At this point, it is unknown when or if DEP will finish closing the site properly.
One thing, AECOM Technical Services has yet to do is add 24-inches of clean topsoil over the top of the dump to properly cap it and keep pollutants from leaving the site. Proper drainage was also not completed. This has led to erosion that allows contaminated water to flow into nearby tributaries.
Gloria Horning, a longtime Pensacola environmental activist, while critical of Rolling Hills, pointed out 11 landfills exist around Wedgewood. Horning, who used her cellphone to record a recent discussion about Wedgewood, has maintained their "homes are toxic and soil is toxic."
"Wedgewood has become toxic," she said. "Rolling Hills is the number one contributor and the nearby concrete crushing site is number two."
Following the orders of the five-member commission, Chips Kirschenfeld, the county's natural resources management director, took one surface water sample at two sites in Marcus Creek's east and west tributaries Friday, Feb. 15.
Kirschenfeld reported results were "not alarming" for people but exceeded state environmental standards for fish and other aquatic life. The standard for aluminum is 0.013 milligrams per liter but tested at 0.035 milligrams per liter. Iron should be 1.0 milligrams per liter but the county found a 1.1 level.
Kirschenfeld called for a "very extensive" water monitoring program to test surface waters and groundwaters that would cost $71,915 monthly, which the five-member commission unanimously approved.
Water tests would be performed at seven surface water sites for 22 pollutants, while two groundwater wells would be drilled for an estimated $10,000 each and where the county would monitor 31 pollutants. Additionally, the program included hiring an environmental technician for $30,243 plus benefits to help the county with taking water samples and doing testing.
Not only would samples be taken near Rolling Hills but other surrounding sites: Eagle Beaver, GFD, Longleaf, KTTTC Investments, RLF Baldwin, Shortleaf and Sunbelt. Kirschenfeld told commissioners this would allow the county to determine the sources of pollution to the Wedgewood community.
"We have set up these seven projected locations so we can try to determine what sources are as we analyze them," Kirschenfeld said.
Escambia County cited the landfill in 2014 for allowing odors to escape the Rolling Hills facility in the form of the hazardous gas hydrogen sulfide at levels known to cause nausea, tremors, convulsions, headaches and eye and skin irritation. The county continues to fine South Palafox Properties $200 a day for violating county code enforcement regulations and has about a $200,000 lien for violation of fire suppression requirements. DEP has charged an estimated $38,000 in fines at the site.
"These people have suffered long enough," May said.
Soles-Wood, who cannot afford to move, insisted: "There is still something out there in my neighborhood."
---
Air Monitoring
Escambia County displays real time air quality monitoring readings near Wedgewood and the Rolling Hills landfill. Levels above 10 of hydrogen sulfide in the air can cause nausea, tremors, convulsions, headaches, and eye and skin irritation.