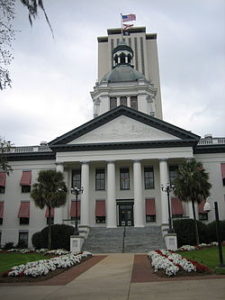 By BRANDON LARRABEE
THE NEWS SERVICE OF FLORIDA
THE CAPITAL, TALLAHASSEE, July 24, 2015……….In case you were wondering, the 2016 general election is still more than 15 months away.
But with new congressional districts about to be crafted by lawmakers and a Republican presidential primary campaign already in full swing, the off-season ain't what it used to be. Once and potentially future congressmen are already plotting their comebacks depending on what Florida's next political map looks like. And a former governor of the state stopped in Tallahassee to vow to take on the lobbying corps in a different capital city: Washington, D.C.
The wheels of state government kept turning. The Department of Education approved a new funding formula for colleges, and a big-box retailer asked the Public Service Commission to let it out of energy-efficiency payments. Those were footnotes, though, in a political city already beginning to eye the next election.
GETTING IN LINE
A spot in the part-time Florida Legislature is increasingly beginning to look like a full-time job.
After the Florida Supreme Court struck down the state's existing congressional districts as an unconstitutional gerrymander in a July 9 ruling, legislative leaders this week unveiled the dates of a special session to redraw the boundaries for at least eight of the 27 seats: Aug. 10 to Aug. 21.
Senate President Andy Gardiner, R-Orlando, and House Speaker Steve Crisafulli R-Merritt Island, also directed staff from the new House Select Committee on Redistricting and the new Senate Committee on Reapportionment to work with legislative attorneys to initially draft a "base map" that complies with the ruling.
"This map proposal will be drafted solely by staff in collaboration with counsel, without our participation or the participation of any other member, and will be provided simultaneously to all members and the public prior to the convening of the special session," Gardiner and Crisafulli wrote. "We believe that presenting a base map that follows the Supreme Court order to you and the public will make it easier to discuss all legislative actions in an open and transparent manner."
Of course, lawmakers had already spent the last three years saying that the 2012 process that produced the map thrown out by the court was the most transparent in the state's history, as Florida Democratic Party spokesman Max Steele sarcastically noted on Twitter.
"I know we said it last time. And then the time before that. And also the time before that. But for real this time," Steele tweeted.
In any case, holding the special session in August means that the Legislature will have met in a regular session, special session or in committees during nine of the 12 months in 2015. Lawmakers' decision to start the next regular session in January 2016 — pushing up committee meetings to prepare for that gathering — certainly looked like a good idea before a budget blow-up and the redistricting case sparked two special sessions.
And whether the new lines will be influenced by politics or not, the possibilities were already influencing politics. Former Gov. Charlie Crist sounded ready to once again crank up his portable electric fan and re-enter the fray by running in Congressional District 13, a swing district that is expected to take on a more bluish tint as it pushes into the southern end of Pinellas County.
"If the new congressional map includes my home, I intend on running to serve the people again," said Crist, a St. Petersburg Democrat who was elected governor in 2006 as a Republican but later switched parties.
Meanwhile, incumbent Republican Congressman David Jolly was throwing his hat into the ring for a U.S. Senate seat. Jolly had already been weighing a bid for statewide office, but the impending changes to his district and the chance he would face the telegenic Crist probably helped him make up his mind.
"Over the next year, I intend to run for the United States Senate on an unwavering platform that will reject the politics of division and class warfare that have defined the current administration, reject the failed foreign policies that have projected only weakness and apology on the world stage, and embrace a new economy founded on the principle that individuals and families, not government bureaucrats, create success," Jolly, 42, of Indian Shores, said in a prepared statement.
And former Republican Congressman Steve Southerland was looking at jumping back into the race for the North Florida seat he lost to Democratic Congresswoman Gwen Graham last fall. While Graham's district wasn't thrown out by the Supreme Court, changes to a neighboring seat will almost certainly give her far more Republican-friendly territory.
"I was as surprised as anyone (by the ruling). But when you look at the maps that are floating around — and one in particular that seems to be gaining traction — you know, I represented 80 percent of the land mass that they are proposing in the new Florida (Congressional District) 2," Southerland told The News Service of Florida.
'A DIFFERENT AGENDA ALTOGETHER'
There are no maps required to know whether you're going to run for president, and two of the Florida GOP's favorite sons — former Gov. Jeb Bush and U.S. Sen. Marco Rubio — have already taken that plunge. This week, Bush came back to Tallahassee to pitch his ideas for fixing the federal government.
Bush, seeking to portray himself as a Washington outsider, laid out plans for civil-service and congressional reforms, including plans to push for constitutional amendments that would require a balanced budget and give the president line-item veto power on appropriation bills.
"I'm offering a different agenda altogether," Bush said "It will be my intention not to preside over the establishment, but in every way I know to disrupt that establishment and make it more accountable for the people."
Democrats were quick to question how much credit Bush should get for the state's economic growth and snarked away at the idea of someone who shares a name with two former presidents challenging the status quo.
"It's hard to think of a plan less likely to change the way Washington works than a Bush running for president promising to change the way Washington works," Steele said. "It's also hard to take his proposals to reform lobbying seriously when he delivered his speech to a roomful of applauding Tallahassee lobbyists."
And Bush wasn't the only one preparing for November 2016 regardless of the map. Supporters of a proposed constitutional amendment that would legalize medical marijuana sent 100,000 petitions this week to county elections supervisors, one of the first steps in getting the proposal before voters next year.
It's the second shot for United for Care, the committee behind the petition drive, to get the proposal on the ballot. A similar plan received 58 percent of the vote in November, just shy of the 60 percent required for passage.
Local supervisors of elections have 30 days to validate at least 68,317 petitions to trigger scrutiny by the Florida Supreme Court, which signed off on the previous version of the proposal last year on a 4-3 vote. Like all other petition initiatives, United for Care needs 683,149 validated, signed petitions to get "Use of Marijuana for Debilitating Medical Conditions" on the November 2016 ballot.
United for Care campaign manager Ben Pollara said he expects the Supreme Court to receive the validated petitions by August.
"We're way ahead of the eight-ball this time. Last time, I was totally stressed and our staff was working 18-hour days all through the holidays, and this time I believe we will have effectively put this thing to bed well before Christmas," he said.
ALWAYS LOW PRICES FOR ELECTRICITY?
"Save Money. Live Better" might not just be a slogan for Wal-Mart. At least when it comes to electricity bills, the retail giant is hoping it will become a reality. Wal-Mart and a group representing other large users of electricity say they can do a better job of saving energy if state regulators would let them opt out of a nearly 35-year-old conservation program.
However, the state's most influential energy providers told the Florida Public Service Commission that such a proposal would shift costs to small businesses and residential customers. And an environmental group said the "radical" proposal could further diminish conservation efforts in Florida.
The proposal would allow Wal-Mart, as well as others that use massive amounts of energy — including large grocers and cement manufacturers — to opt out of paying the energy conservation charge on their bills.
Wal-Mart attorney Robert Scheffel Wright and Jon Moyle, representing the Florida Industrial Power Users Group, noted there are models Florida could emulate. A number of other states have similar opt-out programs.
Customers would "have to meet the utilities' energy percentage savings goals as established by your decisions," Wright told commissioners. "So opt-out cannot result in any less energy conservation than utilities' programs and can reasonably be expected to produce more savings, because we'll probably be doing a cushion and doing more than the minimum specified by your goals."
But Florida Power & Light executive Thomas Koch told the commission the costs could be in the millions of dollars just for the administrative changes to the conservation programs.
A decision isn't expected until at least September.
Meanwhile, the Florida Board of Education approved a new performance-funding system for state colleges, the latest step in Florida officials' drive to tie money for higher education to how well institutions and their students do.
The performance system will control how the state divvies up a total of $40 million, including $20 million of new funding for colleges and $20 million in money that colleges were already receiving. In that respect, it resembles a larger performance plan for state universities that started last year.
According to information provided to the board, seven colleges will receive their existing funding back and a higher share of the new money: Santa Fe College; Valencia College; Tallahassee Community College; Lake-Sumter State College; Gulf Coast State College; State College of Florida, Manatee-Sarasota; and Florida SouthWestern State College.
Five schools — Pasco-Hernando State College, the College of Central Florida, Daytona State College, Northwest Florida State College and Pensacola State College — will not receive new funding and will have some of their existing funding held back until they show improvement.
The other 16 colleges will receive their existing funding and some performance funding, though not as much as the seven highest-scoring schools.
STORY OF THE WEEK: The repercussions from a Supreme Court ruling ordering the Legislature to redraw at least eight of Florida's 27 congressional districts were already being felt, as politicians jockeyed for position.
QUOTE OF THE WEEK: "It's raining. There's no place to park out there now. And this poor kid comes screaming up in some little car and grabs this box of stuff and runs up to the door and he's pounding on the door. And 5:00 is like a minute away. His face was up against the glass. He's mouthing 'Please open the door!' He's sopping wet."— Jeff Sharkey, a lobbyist who represents the Medical Marijuana Business Association of Florida, describing the frenzied scene at the Department of Health as nursery representatives raced through a downpour to submit applications to become the state's first legal medical-marijuana producers.