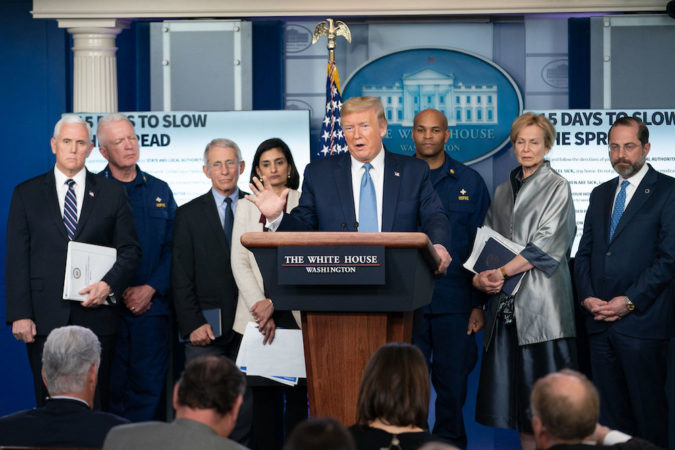 At Thursday's White House briefing, Vice President Mike Pence reported, "As we look at the data literally on a county-by-county basis every day, we continue to see evidence that that, in areas where the epidemic has impacted most–the greater New York City area, Louisiana, the Detroit Metro, the Denver Metro, we continue to see evidence of stabilization, and it appears, as Dr. Birx suggests that we are close to the peak in each of those areas so impacted."
He said the new lower projections of deaths related to COVID-19 – dropping from 100,000-200,000 to 60,000 – shows that social distancing is working.
"It's because the American people are putting into practice the social distancing, caring for their neighbors and their loved ones and their family members and putting their health first, and we just want to urge every American to continue to put those principles and guidelines into practice every day," said the vice president.
Dr. Deborah Birx talked about issues in nursing homes. She said that contact tracing of nursing home outbreaks have given "a clear impression of no matter what we do in the future, we need to really ensure that nursing homes have sentinel surveillance"
"And what do I mean by that?" said Dr. Birx.  "That we're actively testing in nursing homes, both the residents and the workers at all times."
Has the county mandated testing in all the local nursing homes?  No.
Dr. Anthony Fauci reiterated the need to maintain physical separation.
"I know I sound like a broken record," he said. "That's good. I want to sound like a broken record. Let's just keep doing it."
He continued, "I get questions a lot, Dr. Birx and I, about these numbers, the projections that you went from 100,000, 200000, now down to 60,000. That's a sign that when, as I keep saying, when you take the data you have and you reinsert it into the model, the model modifies. Data is real, model is hypothesis. Okay? So that's what you have to do, and that's what I think we're seeing."
---
At his press briefing yesterday, Gov. Ron DeSantis reported the hospital capacity across the state.
"Right now, the availability statewide is 43%. Miami Dade is 43%, Broward is almost 46%, Palm beach 49%, Hillsborough 41%, Orange 44%, and Duvall 47%," he told the media.
Inweekly would love to report the capacity in Escambia County, but the county no longer is releasing that information. County officials have said the governor has forbidden, but he gave a report yesterday.  Huh?
President Trump has expressed concern about how heavily the African American community has been impacted by COVID-19. Gov. DeSantis said yestarday that the state is supporting an investigation by the University of Florida and Shands into "some of the public-housing communities. It's going to be in Jacksonville, primarily African American, to figure out underserved populations, where they may be not getting what they need."
"Now we have drive-through testing centers," he said. "It's open for everyone, but maybe the message hasn't, so we're looking at that. We're doing some other random testing to try to figure out how many people are asymptomatic that may have it. We're doing a lot. "
Maybe Escambia County and the University of West Florida should do a similar study of local public housing.
Earlier this week, a conference call with the church leaders in Escambia County's black community. Medical professionals asked the leaders to help dispel the rumor that African Americans are not effected by the virus, which could prevent or cause a person or group not to take precautions for the virus seriously.
Escambia County doesn't report the specimen collections and test results by race, so we have no idea how the virus is impacted the black community.
---
The News Service of Florida reports Gov. DeSantis is on the fence about shutting school campuses statewide for the rest of the academic year, but he said on Thursday some students may return to school sooner than others.
"We're going to make the best decision that we can, but it may be that not every county is going to be treated the same in this," the governor told reporters."There is nothing wrong with that. If the problem is different in certain parts of the state, we should recognize that."
Florida education officials last month called for all school districts to close their campuses through May 1 in an effort to halt the spread of COVID-19, the respiratory disease caused by the highly contagious novel coronavirus. Classes are being conducted online while campuses are closed.
When asked Thursday about plans to close campuses for the remainder of the school year, the governor said he would look at the evidence and make a decision later. DeSantis said he will take into consideration the risk the virus poses to schoolchildren, adding that COVID-19 "hasn't had an impact" on young people.
"This particular pandemic is one where I don't think, nationwide, there's been a single fatality under 25. For some reason, it just doesn't seem to threaten kids," DeSantis said.
"If we get to the point where people think we are on the other side of this, and we could get kids back in even for a couple of weeks, we think there would be value in that. It's a return to normalcy a little bit," the governor said. "If it is safe, we want kids to be in school. I think most parents want that."
---
Meanwhile, County Administrator Janice Gilley has gone a week without a press briefing.  She will not have to speak at county commission meeting for the rest of the month, since those meetings have been cancelled.