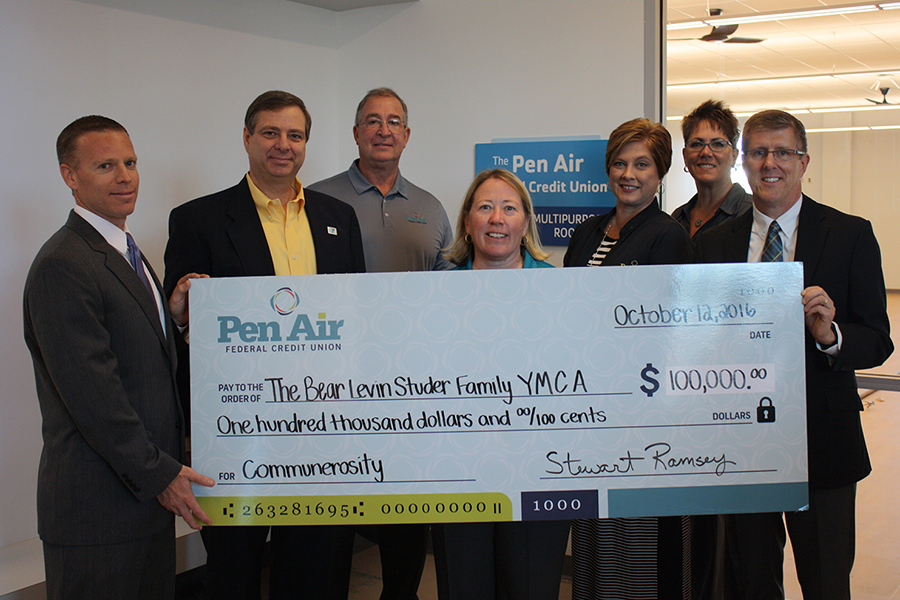 Today Pen Air Federal Credit Union announced the gift of $100,000 to the Bear Levin Studer Family YMCA. The gift will name the Pen Air Federal Credit Union Communerosity Room.
"It is important to us that our community continuously strives to be healthy and strong, not only in a physical sense, but also financial," said Stu Ramsey, president and CEO of Pen Air. "This gift shows our investment in both the physical and financial health and well-being of our local community, not only now but as we look to the future."
The Communerosity Room will serve as a place for the community to participate in physical and financial fitness. The YMCA plans to program numerous exercise classes throughout the week, as well as partner periodically with Pen Air to host financial education courses.
"A gift of this level from Pen Air Federal Credit Union will allow The Bear Levin Studer Family YMCA to serve more people every day," said Bill Seedes, Executive Director of the YMCA. "An investment in our Y is investment in the future health and well-being of the entire community, enabling us to impact more families, individuals, and seniors. We're especially thrilled to accept this generous gift late in our campaign, as we are on the brink of opening this new world-class Y."