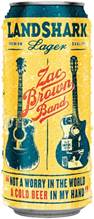 Our Zac Brown Band media kit arrived today. The kit from Landshark Lager included Landshark iron-on packaging, iron, t-shirt and a few limited-edition 16 oz. Landshark cans featuring Grammy Award-winning Zac Brown Band.
Zac Brown Band has played both Hangout in Orange Beach and Deluna Fest on Pensacola Beach, but our newspaper was the first to take a chance on Zac Brown for our Hawkshaw Music Fest in May 2007. After the music festival, we did shots and played pool at Seville Quarter.
Here is our first interview with Zac.
This summer, Landshark's popular 12-pack bottles and 12-pack cans feature two iron-on transfer designs on the outside of the package. By following simple instructions, you can cut the iron transfer from the box and iron onto a t-shirt or other clothing. This is a first for any beer brand – putting an iron-on transfer onto packaging so consumers can create their own custom t-shirts.
The best instruction ever came with the kit: "The beer is yours to keep."