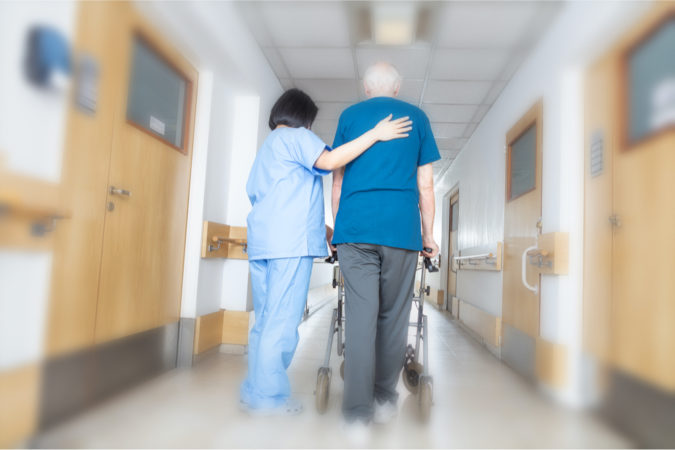 Inweekly has watched the number of COVID cases assisted with long-term care facilities steadily rise in Escambia since June 30 – 161 new cases according to FDOH, total 505.
According to yesterday's report from AHCA, Escambia County long-term care facilities have 396 cases currently – 185 residents, 41 transfers and 150 staff.  – which doesn't match  what FDOH reports but rarely do the two agencies agree.
Southern Oaks is no longer the most infected facility.
Since March, nursing homes have been under lockdown. In June, Gov. Ron DeSantis announced a plan to test nearly 200,000 staff for evidence of the virus every two weeks.
However, the Miami Herald reports there are two problems with the state's approach: "Testing has been too late and incomplete; and thousands are allowed to enter facilities without proof they aren't infected."
In Escambia County, the county administration has expressed no concern over the 47% rise. In April, county officials fought the release of reports that should problems at Southern Oaks and refused to tell the public about the problem because it might upset Gov. DeSantis.
| | | | | | | |
| --- | --- | --- | --- | --- | --- | --- |
| | | | | Residents | Transfers | Staff |
| ESCAMBIA | ARCADIA HEALTH | NH | 7/23/20 12:44 | 0 | 8 | 9 |
| ESCAMBIA | BAYSIDE HEALTH | NH | 7/23/20 13:24 | 2 | 0 | 6 |
| ESCAMBIA | CARE WAY | ALF | 7/23/20 16:10 | 0 | 2 | 1 |
| ESCAMBIA | CENTURY CENTER | NH | 7/23/20 14:23 | 0 | 1 | 1 |
| ESCAMBIA | CONSULATE HEALTH | NH | 7/23/20 17:01 | 1 | 7 | 2 |
| ESCAMBIA | DE LUNA HEALTH | NH | 7/23/20 14:15 | 49 | 0 | 2 |
| ESCAMBIA | ELMCROFT | ALF | 7/23/20 14:12 | 0 | 0 | 1 |
| ESCAMBIA | FLORIDA MENTOR | ICF | 7/23/20 20:25 | 0 | 0 | 1 |
| ESCAMBIA | FLORIDA MENTOR | ICF | 7/23/20 20:29 | 3 | 0 | 5 |
| ESCAMBIA | FLORIDA MENTOR | ICF | 7/23/20 20:31 | 6 | 0 | 9 |
| ESCAMBIA | GRANDVIEW | ALF | 7/23/20 8:49 | 0 | 6 | 0 |
| ESCAMBIA | HAVEN OF OUR LADY | NH | 7/23/20 14:56 | 9 | 3 | 11 |
| ESCAMBIA | LAURELWOOD | ALF | 7/23/20 14:12 | 5 | 1 | 1 |
| ESCAMBIA | LIFE CARE CENTER | NH | 7/23/20 14:07 | 0 | 1 | 7 |
| ESCAMBIA | NEW HORIZONS. | ICF | 7/23/20 16:35 | 0 | 0 | 2 |
| ESCAMBIA | NOBLE SENIOR | ALF | 7/23/20 14:58 | 0 | 0 | 4 |
| ESCAMBIA | NORTHPOINTE | ALF | 7/23/20 18:32 | 0 | 0 | 1 |
| ESCAMBIA | OAKBRIDGE -AZALEA TRACE | ALF | 7/23/20 18:00 | 4 | 0 | 2 |
| ESCAMBIA | OLIVE BRANCH | NH | 7/23/20 14:23 | 0 | 3 | 10 |
| ESCAMBIA | PENSACOLA DEVELOPMENTAL | ICF | 7/23/20 13:50 | 3 | 0 | 2 |
| ESCAMBIA | REHAB.CENTER AT PARK PLACE | NH | 7/23/20 2:34 | 31 | 15 | 10 |
| ESCAMBIA | ROSEWOOD | NH | 7/23/20 11:40 | 10 | 0 | 6 |
| ESCAMBIA | SABAL HOUSE | ALF | 7/23/20 13:32 | 0 | 0 | 1 |
| ESCAMBIA | SOLARIS HEALTHCARE | NH | 7/23/20 13:25 | 0 | 1 | 13 |
| ESCAMBIA | SOUTHERN OAKS CARE CENTER | NH | 7/23/20 14:01 | 0 | 4 | 2 |
| ESCAMBIA | SPECIALTY HEALTH | NH | 7/23/20 13:49 | 12 | 1 | 12 |
| ESCAMBIA | SUMMER VISTA | ALF | 7/22/20 14:18 | 0 | 3 | 1 |
| ESCAMBIA | THE BLAKE AT PENSACOLA | ALF | 7/23/20 13:03 | 0 | 2 | 0 |
| ESCAMBIA | THE RESIDENCE | ALF | 7/23/20 10:13 | 0 | 0 | 2 |
| ESCAMBIA | THE RHEMA HOUSE | ALF | 7/23/20 14:27 | 0 | 0 | 1 |
| ESCAMBIA | THE WATERFORD-CARPENTER'S CREEK | ALF | 7/23/20 20:28 | 23 | 0 | 8 |
| ESCAMBIA | THE WATERFORD AT CREEKSIDE | ALF | 7/23/20 16:02 | 16 | 1 | 7 |
| ESCAMBIA | UNIVERSITY HILLS | NH | 7/23/20 11:28 | 4 | 1 | 5 |
| ESCAMBIA | VERANDA | ALF | 7/23/20 20:31 | 0 | 0 | 1 |
| ESCAMBIA | WILLOWBROOKE- AZALEA TRACE | NH | 7/23/20 10:06 | 7 | 0 | 2 |
| ESCAMBIA | YOURLIFE | ALF | 7/23/20 14:05 | 0 | 1 | 2 |
| | | | | 185 | 61 | 150 |