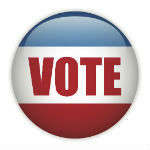 Escambia County Supervisor of Elections David H. Stafford today reminded voters that 5:00 p.m., Saturday, August 23, is the deadline for early voting for the August 26 Primary Election.
Times for today through Saturday early voting are as follows:
• 8:00 a.m. until 5:00 p.m.
Voters may choose any one of the seven early voting locations:
Escambia County Extension Office
3740 Stefani Road
West Florida Public Library
239 N. Spring Street
Molino Community Center
6450 Highway 95A North
Southwest Branch Library
12248 Gulf Beach Highway
Pensacola Interstate Fairgrounds
6655 W. Mobile Highway
Genealogy Branch Library
5740 N. 9th Avenue
Supervisor of Elections Main Office
213 Palafox Place, Second Floor
On Election Day, Tuesday, August 26, the polls will be open from 7:00 am until 7:00 pm.
Here are the stats through yesterday:
Date
SOE Ofc
Main Library
Genealogy
Fair- grounds
South West
Extension
Molino
Total
16-Aug
63
52
196
50
147
86
39
633
17-Aug
16
8
50
5
56
25
6
166
18-Aug
92
55
150
40
177
64
25
603
19-Aug
70
47
156
37
155
64
25
554
20-Aug
77
60
147
35
131
53
30
533
21-Aug
77
68
130
24
124
79
30
532
22-Aug
23-Aug
Totals
395
290
829
191
790
371
155
3021
– See more at: http://escambiavotes.com/early-voting-stats#sthash.QCDYEq4Z.dpuf