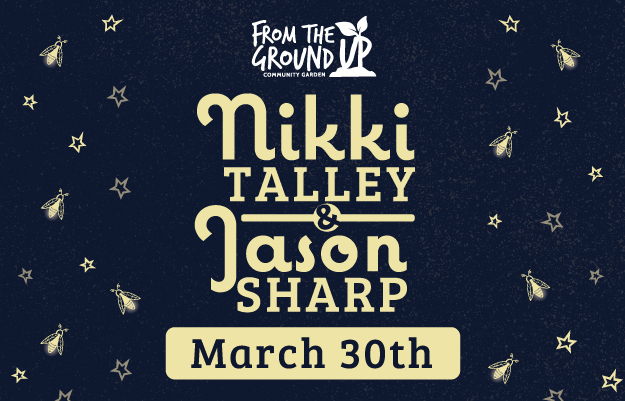 On Friday, March 30, From the Ground Up Community Garden — located at 501 N. Hayne Street in Pensacola, Florida — will host Nikki Talley and Jason Sharp as part of their ongoing 'Music Under the Stars' concert series in the garden.
Nikki Talley brings the sounds of the North Carolina mountains on the road with her husband, Jason Sharp. A Lifestyle Magazine acclaimed musician, Nikki Talley is a self-proclaimed "heartache honky-tonk" style musician. Nikki's soulful voice and clawhammer style banjo paired with Jason's lush guitar tones are poised to fill Pensacola's night sky.
"We are thrilled to be able to welcome someone as talented as Nikki to our garden for a third time," says Aidan O'Daniel, event planner for the garden. "Spring is finally here and there's never been a better time to enjoy some outdoor music."
The gates are set to open at 6:30 p.m. and the show starts at 7 p.m.. Tickets are $10 and can be purchased at www.nikkitalleyinthegarden2018.eventbrite.com. Guests are encouraged to bring their own chairs and drinks to the concert.
Proceeds from the concert will benefit the From the Ground Up Community Garden.
From the Ground Up Community Garden is a project of The Hive, Innisfree Hotels' corporate social responsibility program. You can learn more about The Hive at https://innisfreehotels.com/corporate-social-responsibility-program/.
No dogs are allowed in the garden. In the event of heavy storms that cause a show cancellation, refunds or tickets to other shows are available upon request.