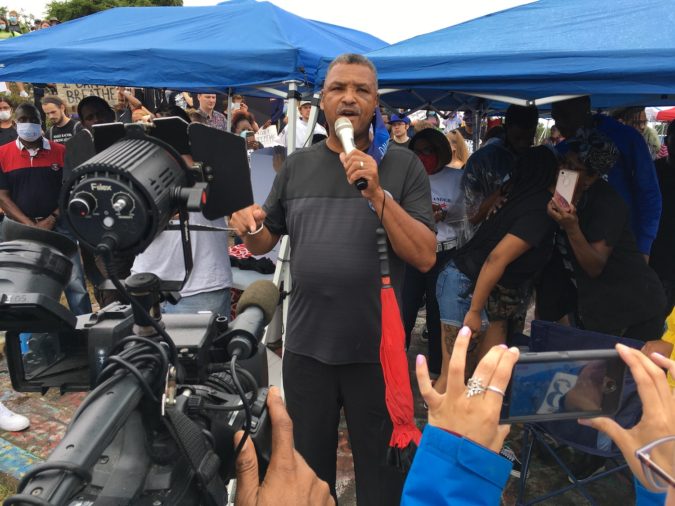 By C. Scott Satterwhite
After a week of nation-wide protests stemming from the killing of George Floyd in Minneapolis, former Chief of Police David Alexander answered questions at the Sunday, June 7 Escambia County Online Sheriff's Forum. Pensacola Dream Defenders, a local chapter of the Florida-based group, organized this candidate forum weeks before the country was gripped in protests against racism and police brutality.
While the forum was designed for both candidates, Chip Simmons told Inweekly that he had already another speaking commitment. As a result, Alexander answered dozens of questions by himself from a long list of participants.
Alexander, the Democratic candidate for sheriff, served 32 years in law enforcement and was Pensacola's first African American police chief when appointed to the position in 2017.
Hale Morrissette, regional organizer for Dream Defenders, began the forum by describing her organization as "abolitionist," meaning that they work towards the end of a carceral state. Morrissette said, "We know this won't happen overnight, but this is our North Star."
With her introduction, followed by personal testimonials, Alexander began answering questions.
Several of the questions posed to Alexander dealt with the issues surrounding police violence and racial bias towards Escambia County's black community.
"I believe everyone should be treated fair and with respect," Alexander said.
He then committed to fight against racial bias and pledged to run his administration with "professionalism, integrity and fairness."
Several questions posed to Alexander at the forum dealt with incarceration, in particular of black youth. Alexander expressed his support for alternatives to incarceration—such as various restorative justice programs—but he said many of the issues also needed direct community support.
"The community has to take a more active role," said Alexander.
He stressed the need for traditional policing, but he continuously stated the need for more community involvement throughout the forum.
"If you don't want to work in the community," he said, "you really don't want the problem solved."
One of Alexander's main concern was the adversarial image many citizens had of law enforcement, especially within minority communities. Alexander said that there was "no place for heavy handed policing," but also reiterated that "there's a lot of good officers out there of all races and ethnicities."
The majority of the questions the former police chief fielded at Sunday's forum related to police misconduct, with some drawing parallels to the national protests against police brutality.
Alexander promised to fight against misconduct and racism in policing, at one point saying that he himself faced discrimination in his career. Among the ways he plans to fight discrimination, if elected, is through strengthening accountability within the sheriff's office. He proposed dashboard and bodycams, and he said officers would be held "accountable for actions that are not justifiable."
"What you permit is what you promote," said Alexander.
His hope was to change the perception of local law enforcement and to lessen the negative association with policing in minority communities, but felt this would only come with fair accountability. "If there's no accountability, those charges [of systemic racism] will not be sustained."
"It doesn't matter what your race is," said Alexander. "You needed to be treated fair."
Though friendly to Alexander, the online audience was clearly skeptical of law enforcement. Alexander defended the institution and urged the participants not to judge all police by the actions of a few.
"I don't like the idea that one officer can do something that causes all officers to have a tainted badge," he said. To help with law enforcement and community relations, Alexander said that within his first 100 days he would closely examine "what is working, and what is not working" to strengthen the relationship between law enforcement and the people of Escambia County.
Alexander remained on the Zoom platform for nearly two hours, answering every question that came to him. Throughout the event, he was forthright about what he could and could not promise, while expressing his desire to develop "mutual respect and a trusting relationship between the Sheriff and Escambia County citizens."
Several of the participants in the online forum said that they had personally experienced racism at the hands of local law enforcement. Questions continued throughout the night about plans to fight racism within the sheriff's office. To assuage the audience, Alexander said that he hoped his life experience as a black man and his professional record in the Pensacola Police Department would speak for themselves.
Repeatedly throughout the night, Alexander said that on some issues, he just hopes that the voters will "trust me that I didn't just fall of the truck."