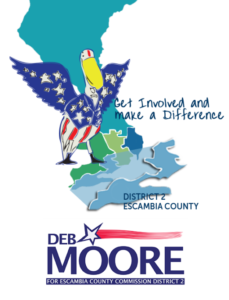 The ATU Local 1395 Executive Board voted in support of endorsing Deb Moore (D) for County Commissioner in District 2.
The leadership of ATU felt compelled to offer up this endorsement because of her tremendous efforts during this General Election process.

Deb has been activity attending almost all community meetings and she has shown concern for the real issues facing District 2. Her community involvement has great standing and she has shown the ATU that she really wants to be a friend and leader of Mass Transit system.

But the most overriding factor was the clear difference between her and her opponent. Deb has committed to being a full-time County Commissioner, while her opponent has publicly stated he will work as a part-time Commissioner. In these crucial times facing our community we need elected officials who will work day in and day out for the taxpayers of Escambia County.