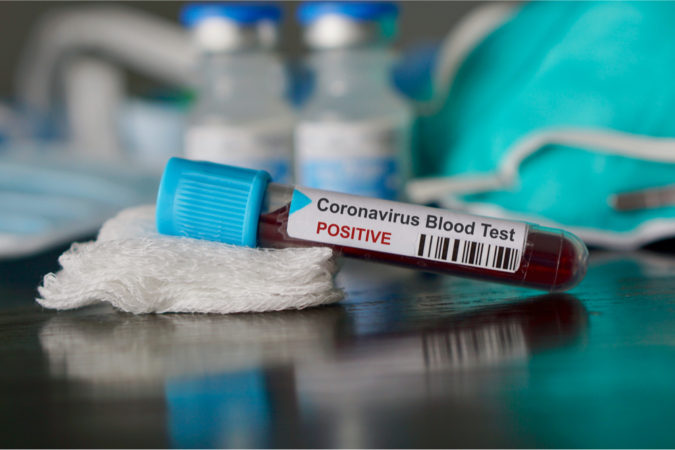 By Ana Ceballos and Jim Turner, The News Service of Florida
TALLAHASSEE — Gov. Ron DeSantis has pushed to expand testing of Floridians to see how widely the coronavirus has spread across the state. But when it comes to talking about his own family's testing, he would rather not comment.
"I don't have anything to announce about any testing," DeSantis told reporters this week after he was asked whether his wife, First Lady Casey DeSantis, has been tested for coronavirus antibodies.
The question came nearly two months after the governor said that once antibody tests were available, he would want his wife to get one.
"I want her to take a serological test … because she was sick in January and I am thinking to myself now, we didn't really know what it was," DeSantis said during a March 25 news conference. "My kids got a little sick. I was fine, but you know what? It could have been this (COVID-19, the disease caused by the coronavirus)."
Now that Florida has begun testing health-care workers and residents for antibodies in some parts of the state, DeSantis won't say if his wife has gotten a test.
As for himself, DeSantis has also tried to keep the information under wraps. But on Tuesday, he told reporters that he has been tested for COVID-19 at least once.
"I've not needed a diagnostic test, but I was tested when I went to the White House, just simply because everyone that goes to the White House gets the (Abbott COVID-19) test, so I did that," the governor said.
Helen Aguirre Ferre, a spokeswoman for the governor, has repeatedly ignored questions from The News Service of Florida since May 8 about testing of the governor.
Six days after the governor met with President Donald Trump at the White House, Vice President Mike Pence's press secretary was notified that she had tested positive for COVID-19, according to The Washington Post.
The governor has also had close encounters with people in Florida who ended up testing positive for the virus. The CEO of Miami's Jackson Health System, Carlos Migoya tested positive in late March. Eight days before the news broke about Migoya's diagnosis, the governor held a press conference alongside Migoya.
The governor appeared to suggest on Tuesday that he does not want to get tested because he would rather tests be used for someone else.
"My view on that was I am in a low-risk age group and we do have a lot more tests now, but I would rather those tests go somewhere else," the governor said.
'THE BIG GUY'
Pence said he will be back in Florida next week as people are launched from Cape Canaveral for the first time in nearly nine years.
And DeSantis said "the big guy" will be there as well.
"Pretty exciting event later this month in Central Florida with the launch," DeSantis said while with Pence for a tourism event Wednesday at the Rosen Shingle Creek Hotel in Orlando.
"I know, maybe you're going to be there. I know, I think the big guy is going to be there. So, I'll certainly be there," DeSantis said. "We're looking forward to doing that. He's been a great advocate for the space industry both in terms of NASA but also the private sector."
Pence acknowledged only that he will attend as NASA astronauts Bob Behnken and Doug Hurley are scheduled to be aboard the SpaceX Dragon spacecraft at 4:33 p.m. on Wednesday when it's launched by a SpaceX Falcon 9 rocket.
"We're going to send American astronauts back to space on American rockets from Kennedy Space (Center). And I know how important the space enterprise is here in the history of Florida," Pence said. "But I want to tell you that President Trump and I know that the history of space that will be written is going to be greater still and Florida will play, and the Space Coast will play, a key role in that."
The last launch from the Cape with people aboard was the Space Shuttle Atlantis on July 8, 2011.
TURNING THE MAGIC BACK ON
DeSantis is eager to sign off on plans to reopen the state's amusement parks.
With Walt Disney World, Universal Orlando, and SeaWorld starting to provide plans to Orange County's reopening task force, DeSantis expressed enthusiasm for getting people back into the parks, which have been closed since mid-March due to the coronavirus pandemic.
"Obviously, I want to get to yes," DeSantis told leaders of the three sprawling tourist draws Wednesday while in Orlando with Pence. "I think if you work with your local (governments), you're going to be in pretty good shape."
DeSantis last week expanded the first phase of his economic revitalization effort to include requirements for amusement parks to reopen — submitting cleaning and testing requirements and physical distancing plans.
"I really want to see which theme park opens the first water park," DeSantis said. "Who's going to take the first move? My daughter is only 3. She may be a little too young. But she does want to go to the wave pool at some point. I can't promise you we'll be there yet, but maybe in a couple years."
SeaWorld Interim Chief Executive Officer Marc Swanson said it could be "sometime" in June for the park to start letting guests in.
"From kind of the time we get the approval, it's a couple of weeks, two, three, four weeks to ramp up," Swanson said. "Get our employees back and get everybody in there. We're going to try to get our things moving as quickly as possible and then get the approval and move forward."
Walt Disney World's Disney Springs and Universal's City Walk dining and entertainment complexes have already opened with new rules.
"We've had almost no negative pushback from anyone, whether it be our team members or our guests," said John Sprouls, executive vice president for Universal Parks & Resorts. "They understand it, they're cooperating, and they're actually welcoming the opportunity to be able to get out and get out and have a meal, walk around the lagoon and start to get back to normal."
TWEET OF THE WEEK: "I'm being selfless and letting my constituents hit the gym first. I'll return in phase 2 or 3." — State Rep. Chris Latvala, (@ChrisLatvala), responding to a question by Rep. Blaise Ingoglia about whether anyone else was checking their email for gym reopening notifications.