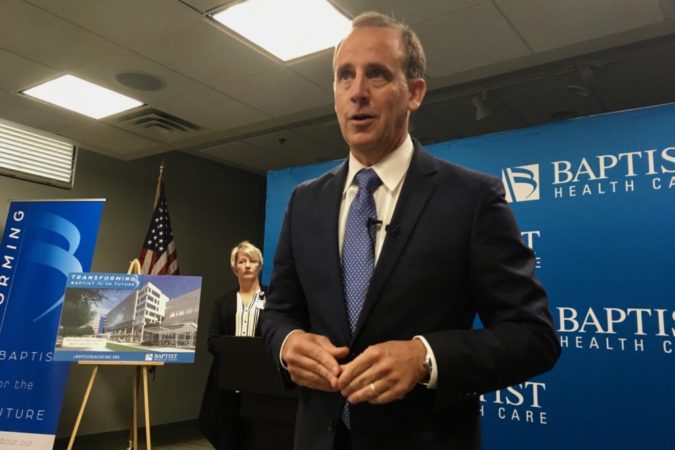 by Jeremy Morrison, Inweekly
Baptist Health Care is moving. Described as "a transformational investment and commitment for generations to come," plans for a new campus at the corner of Brent Lane and I-110 were announced Wednesday.
"Today is perhaps the most significant day in the 68-year history of this organization," Baptist President and CEO Mark Faulkner said before formally announcing the move.
Baptist Health Care will develop its new campus over the next few years. Construction is expected to begin in about a year, with an estimated completion date of summer 2023.
"We're excited about this location because it keeps us close to our current campus, while also creating greater accessibility to the greater community," Faulkner said.
The new campus will be about 650,000 square feet. It is expected to cost around $550 million.
Faulkner said that Baptist had considered continued upgrades to the current campus, as well as developing a new facility on the current site, but ultimately determined a move best suited the hospital's needs.
"This facility was not designed for today's healthcare," the CEO said. "It has served us well, and will continue to serve us well over the next four years, but we do know that a more efficient, more state of the art delivery, with a more healing environment, I think will better serve the needs of the community going forward."
A number of locations were considered for the relocation — "throughout the community, in the central part, downtown, in the north end — and the corner of Brent and I-110 was settled upon.
"If this was an economic decision, we would move far north, towards the Pine Forest, Beulah area," Faulkner noted. "But this is not an economic decision, this is a community decision."
The decision was described as being a relatively recent one, but Faulkner did say that for some time "work has been under way to cobble together enough number of parcels to make up 50 acres at that southwest corner intersection."
When completed, Baptist's new facility will basically replicate its current offerings. There are no specific plans to unroll increased or different services.
"Right now, at this stage, we are essentially planning to replicate what we have in terms of capacity and services and offerings at the new campus," Faulkner said.
What about E Street Campus?
Baptist Hospital currently sprawls across a considerable swath of property off of E Street. Faulkner said the organization intends to maintain a presence on its current property even after its new facility is complete.
"We're going to do this in a way that allows us to maintain a significant presence at our current E Street campus," Faulkner said.
Initially, a list of services and departments that would remain on E Street were provided — including administrative, support and clinical services as well as elective programs — but during a following question-and-answer session, Faulkner said he did not know how many of the hospitals physical buildings might remain and wasn't sure what Baptist's ultimate presence in area might look like or how the organization's current property might be used.
"We are not sure yet. Here's what we are sure of, we are committed to this community," he said, explaining how Baptist intended to engage the local community in determining what happened to the property.
"We look forward to working with community partners," Faulkner said. "Non-profits, the faith community, the business community, elected officials as we work together to reimagine our current E Street campus to better meet the needs of this community in the future."