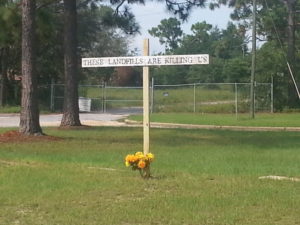 Rolling Hills Construction & Debris Recycling Center is still operating. The owner, South Palafox Properties, LLC, is allowed to keep the facility open pending a hearing on Sept. 9.
The residents of the Wedgewood community have not signed up with attorney Kenneth Williams yet.
Community leaders discovered that he had a conflict in representing them against all the pit owners in the area because of his involvement with GFD Sand Pit. The attorney told the residents that he would only represent them against Rolling Hills. Leaders now are looking at other law firms to represent the neighborhood.
The conflict is a huge one. He actually owns one of the pits. A review of the Escambia Clerk of Courts records revealed the Williams purchased in 2012 the pit owned by Tony Green's GFD Construction – 2012087767 – and here is the property appraiser's record for the pit/landfill: escpaDetail 32505
Here is the aerial view from FDEP: