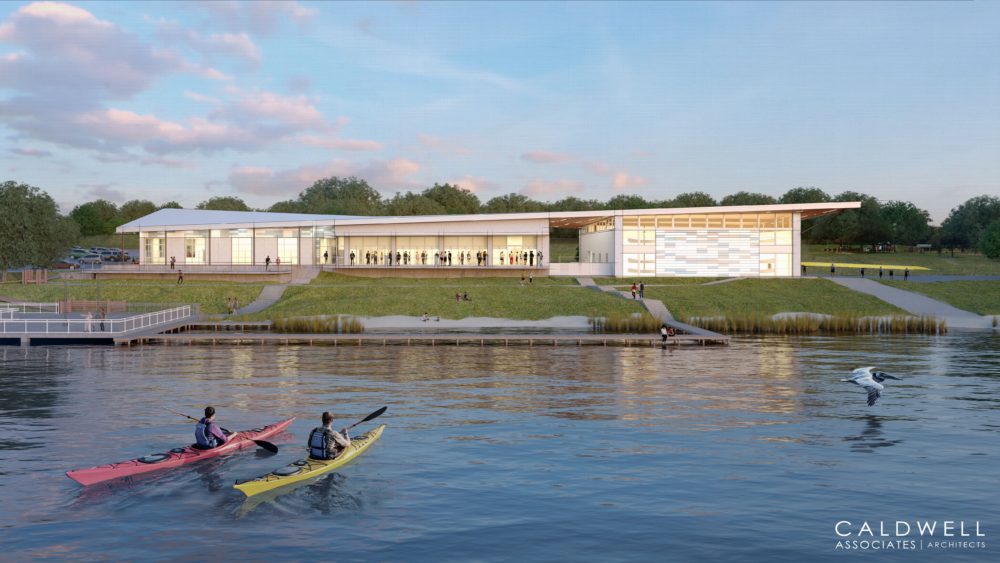 In the RFP, the proposed Bayview Community Center is described as "a new one-story, 18,000-square foot facility with parking, landscape and exterior concrete walkways. Facility functional spaces include meeting and exercise rooms, rental multifunction spaces and storage for water-based equipment, including the rental and storage of kayaks, rowing shells and paddleboards."
The drawings show the center has three buildings.
Building one has a lobby/reception area, two small offices, a 1,000 sq. ft. fitness area and three small meeting rooms that are about 500 sq. ft. each. That building is connected to another building that has a small catering kitchen (402 sq. ft.) and an event space (3,391 sq. ft.).
The third building is the boathouse that has a small office, two restrooms and 4,214 sq. ft. for boat storage.
By function the space is allocated as follows:
Boat Storage – 4,214 sq. ft.
Event Space – 3,391 sq. ft.
Meeting Space – 1,584 sq. ft.
Fitness Area – 1,000 sq. ft.
Lobby/Reception – 729 sq. ft.
Offices – 435 sq. ft.
Catering – 402 sq. ft.
The rest of the center includes restrooms, general storage, hallways and mechanical.
Does the allocation of space in the proposed center agree with the needs and desires of District 4 and the rest of the city–particularly at a price tag of nearly $9.6 million?
We will learn in two weeks whether Mayor Ashton Hayward has reexamined the project in light of the huge jumps in cost. If not, he should at least explain the decision process behind abandoning the 2011 master plan and the addition of the boathouse.
The public should also know the operational budget for the facility.
---
BTW:Sanders Beach Community Center event space is 6,110 sq. ft.
The Theophalis May Resource Center at Legion Field is 15,446 sq. ft. The center has a gym/auditorium, two classrooms, kitchen facilities and neighborhood branch library. Cost $3 million.
---
In 2011, Mayor Ashton Hayward, with the support of the Pensacola City Council, commissioned a master plan for Bayview Park. After a series of public meetings, the plan was presented and adopted. Of the citizens surveyed seven years ago, no one brought up the need for a boathouse. However, a boat launch area, boat trailer parking and swimming areas received a lot of votes under Recreation Areas (page 33).
Kayak/canoe/paddle boat rentals received 14 votes for items needed, but that item trailed Park benches (31), Kids' water play area (18), Pavilion/picnic tables (18), Music & entertainment platform (17), Fenced dog park (17), Shaded gathering areas (18), BBQ grilles (17), Amphitheater (16) and Restrooms (29).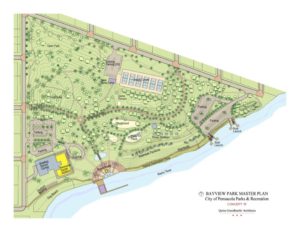 The master plan had the community resource center as an addition to the senior center, which would have opened the waterfront for the community to enjoy.