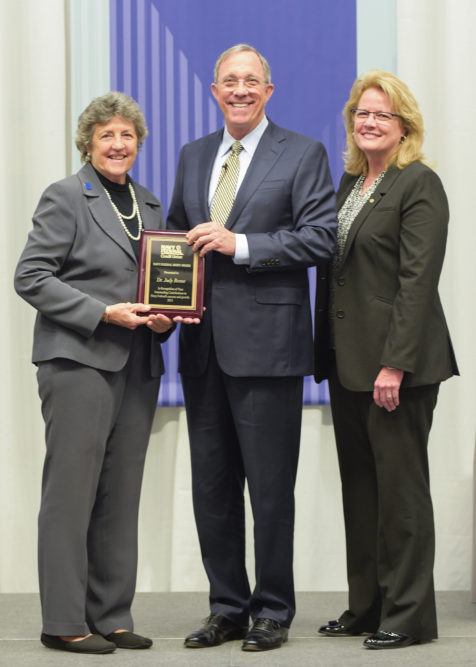 Yesterday Navy Federal Credit Union presented Dr. Judy Bense, president of the University of West Florida (UWF), with its inaugural 'Partner of the Year' award. Dr. Bense accepted the award from Navy Federal CEO/President Cutler Dawson during the credit union's annual President's Award ceremony at its campus in Beulah.
In March of 2008, UWF and Navy Federal established an educational partnership for employees to participate in UWF classes offered at the credit union. Over the last eight years more than 1,100 program participants have been able to continue their education conveniently where they work.
"Judy Bense has been tremendous in helping educate and develop Pensacola's youth and our employees. It was my pleasure to recognize her today and thank her for all of her hard work," said Cutler Dawson, president and CEO of Navy Federal. "Our employees are our greatest asset and with Dr. Bense's help we're able to give them even more opportunities for career training and advancement."
Under Dr. Bense, UWF has established the "Navy Federal Scholarship for the Military" and "Sons and Daughters of the Military" which provides monetary assistance to the military and their dependents attending the university. UWF has also developed new curriculum for students and credit union employees to meet the ever-changing financial industry.
"Dr. Bense has been a game changer for Pensacola," said Debbie Calder, executive vice president for Greater Pensacola Operations. "She's always been willing to offer a helping hand and that willingness to serve has allowed our credit union and our community to become more successful each year."