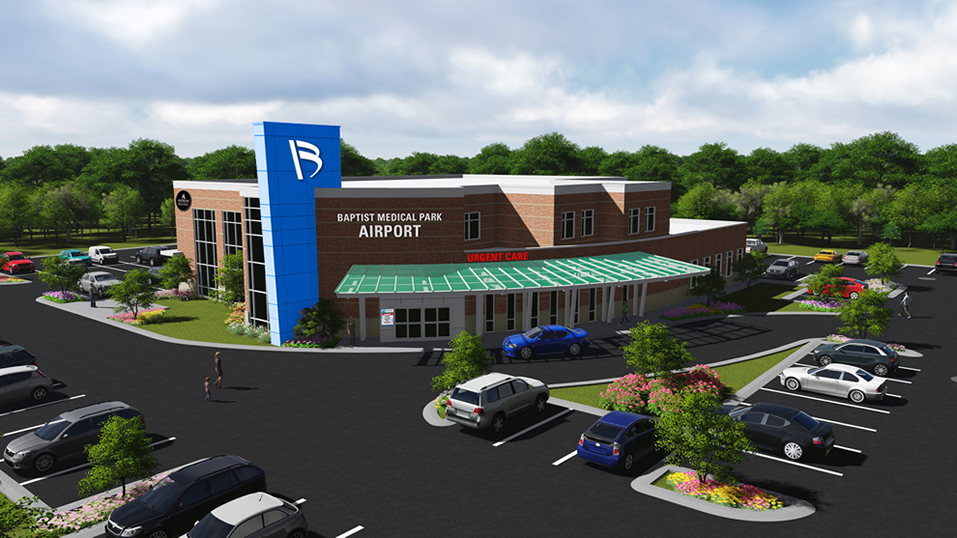 Yesterday, Baptist Hospital announced a new $6-million investment in the commerce park at the entrance to the Pensacola International Airport.
The Baptist Medical Park-Airport will feature Andrews Institute for Orthopaedics & Sports Medicine, Baptist Heart & Vascular Institute, Baptist Medical Group primary and specialty physicians, imaging and lab services. It will provide urgent care for minor illnesses and injuries.
The 24,360 sq. ft. building will be the second the tenant for the Pensacola International Airport Commerce Park, that opened in 2013 with the Hyatt Place Pensacola.
The developer is Catalyst CRE, the contractor is Williams-Brown, and the architect is George Koper Associates.
Renderings/Floor plans:
The groundbreaking came a day after Baptist revealed its plans to revitalize the neighborhood surrounding its main campus on West Moreno Street.
Baptist Health Care plans to redevelop about two blocks or six acres of its property south of its main hospital on E Street.
The land is seen as a possible catalyst for West Side revitalization in the poor, rundown neighborhood, which includes Morris Court and other nearby affordable housing.
Baptist is teaming with the city and county on the redevelopment project. Ideas for the site unveiled Monday include:
A three-story, 40,000-square-foot building that would have office space to house Baptist's administration. The ground floor would include a restaurant, coffee shop or retail.
Green space with shade and sitting areas, including a public plaza.
A community garden where area residents could grow fruit, vegetables and other food.
Fields for soccer, lacrosse or other public events, such as concerts.
"I'm passionate about Pensacola and I'm passionate about this community we're located in," said John Porter, a Baptist executive who moved here 25 years ago. "We want to be a good neighbor. This is the beginning of great things to come."
Richard Martz, partner and principal of the Montreal-based Live Work Learn Play, led the public meeting attended by about two dozen residents and community leaders, including Pensacola City Councilwoman Jewel Cannada-Wynn.
Martz said the company, which began the West Moreno District project in 2014, plans to hold another public meeting at the end of March to reveal more detailed plans for the redevelopment. He admitted the location does have stormwater runoff issues.
"You want a nice entrance to your house," Martz said. "Hopefully, this can start to affect change in the community and lead to different perceptions people might have of this part of town. I hope it starts a pattern of reinvestment here on the West side."
Residents and community leaders expressed excitement about future plans, including Sammy Savage.
"I like that you are not trying to displace residents," he said. "You want to keep the community involved, which I think is good."
For the city of Pensacola, these are two nice wins. The airport commerce park gets a new tenant and the westside of Pensacola gets a facelift.