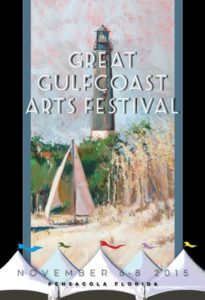 Press release: Artist Joey Blazek is the winner of the 2015 Great Gulfcoast Art Festival poster competition winner. His colorful, lively piece will be reproduced on limited edition posters, T-shirts and other GGAF promotional items that are a major source of support for the Festival.
Blazek is a Texas native who earned his BFA in graphic design from Lamar University. He worked as an art director and creative director at Vance-Mathews, Inc. In the early 1980s he launched his own design firm, Blazek Design, working in print and electronic media for clients across the southeast, working in both photography and illustration.
"In recent years, I have come full-circle – returning to my first love of painting," Blazek said. "After a career in designing, directing and shooting images for print, I have taken that instinct, energy and experience, and directed it back to the canvas – painting images of locales that I know and love."
Blazek has won awards at numerous southeast arts festivals, including the Award of Excellence at the 2013 Great Gulfcoast Arts Festival.
Learn more about him and his work at: www.blazekdesign.com.
GGAF is one of the best-regarded, most popular arts festivals in the United States. The three-day, juried art show draws more than 200 of the nation's best painters, potters, sculptors, jewelers, graphic artists, craftsmen and other artists. The Festival is ranked #27 in the nation by Sunshine Artist Magazine and the American Bus Association has named it one of the Top 100 Events in North America. It has also been voted Best Festival in the annual "Best of Bay" awards for four years.
The GGAF is Nov. 6, 7 and 8, 2015 in Seville Square, Historic Downtown Pensacola. Admission is free. For more information about GGAF, visit www.ggaf.org.