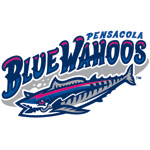 Anyone interested in working for the Pensacola Blue Wahoos in a seasonal position is welcome to attend our job fair between 4-7 p.m. Tuesday, Oct. 14 at Pensacola Bayfront Stadium.
As we prepare for the 2015 season, the Wahoos have part-time opportunities for about 75 game day seasonal staff members primarily in food service, maintenance and cleaning, as well as those who with video production skills. Employment will be during the baseball season from April to September.
Because customer service is job No. 1 at the Blue Wahoos, we'll be looking for those candidates who best exemplify the over-the-top customer service culture for which the Blue Wahoos are known.
For tips on conducting a successful job interview with the team, potential employees can watch our YouTube video at https://www.youtube.com/watch?v=FHwNDf32cXQ
For any further information, please email or call Dick Baker, Director of Human Resources, Pensacola Blue Wahoos, P.O. Box 12587 Pensacola, FL 32591 or dbaker@bluewahoos.com.