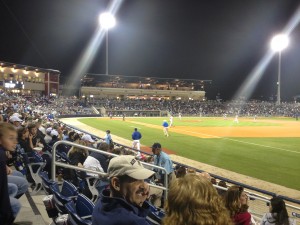 Press release: In its annual rankings of 160 minor league parks, Stadium Journey has placed Blue Wahoos Stadium as the second best MiLB Ballpark. This is the fourth time the home of the Pensacola Blue Wahoos have been placed in the top five of these rankings.
"Not only is this a ranking of the stadium, it's a ranking of the whole Blue Wahoos experience," said team president Jonathan Griffith. "What is comes down to is the top-notch customer service and affordable family fun that everyone involved with the Blue Wahoos, downtown Pensacola and the entire Pensacola metro community aspires to bring to our guests."
Stadium Journey describes it as "a gem sitting on the waters of the Gulf Coast" and "everything about the stadium screams that you should have a good time at a Blue Wahoos game." It mentions great sightlines, plenty of room to move about the rows and that "on a summer night with an ocean breeze, it's hard to imagine a more perfect setting."
Pensacola was named second in 2014, first in 2013 and fifth in 2012.
Stadium Journey's ranking is based primarily on the score of their correspondents, known as their FANFARE rating. This includes looking at the ballpark's food and beverage options, the overall atmosphere, the neighborhood around the park, the fans, the access, the overall return on investment, and one category for any extras or special features.
They also use the ratings of their readers, known as the "crowd source" as their primary tiebreaker.
For more information about minor league stadiums and the facilities in other sports, visit StadiumJourney.com