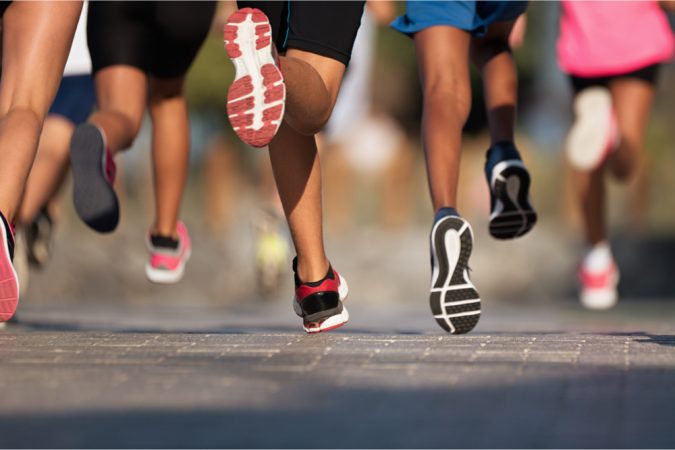 Sacred Heart Cathedral School will host runners and walkers of all ages on Saturday, Nov. 6. One particular runner to watch in this years field is Mr. Richard Browning. Browning has competed in every Pumpkin Run for the past 25 years. He is the current record holder for Silver Grand Master Level (22:01) a record he has held since turning 70, ten years ago. This year, to mark his 80th birthday, he hopes to rewrite Pumpkin Run history in a new category, Golden Grand Master (80 and over). He is hoping to beat the current Golden Grand Master record time of 29:28.
Browning, a retired Navy Master Chief Petty Officer ran his first race, the Perth Marathon while station in Australia in 1981 and he has been running ever since. A native of Houston, Texas he moved to Pensacola 38 years ago. He has competed in both local races and races across the southeast and he has the hardware to prove it. In 2020 he added another trophy to the scores of others when he was awarded the Oldest Competitor in the field, in the Joe Relaxo Challenge.
A fall tradition, The Great Pumpkin 5K run/walk will begin at 8 a.m. at Sacred Heart Cathedral School located on the corner of 12th Avenue and Moreno Street. Participants will race through picturesque Old East Hill past historic homes and lush landscapes as they complete the course. The 3.5 mile course is a combination of long level stretches with some hills. To view the course map please visit: http://www.gmap-pedometer.com? r=7609712 On Raceday late registration and packet pick-up will be open from 6:30 a.m. to 7:45 a.m..
Then, at 9 a.m. the 1 mile Fun Run begins. All children completing the Fun Run sponsored by Learning Rx will receive completion ribbons.
Afterwards participants will enjoy refreshments including our famous pumpkin bread during our awards ceremony. Cash awards will be presented to overall male and female runners. Unique awards will be presented to the top 3 male and female finishers in age categories ranging from 14 and under to 80 and over.
Interested participants can register by mail (through October 25th), in person (Friday October 25th) or online bit.ly/pumpkin5k . Entry fess are Adults (age 15+) $25, Juniors (14 and under) $15 and late registration all ages (October 31st – November 2nd) $30.
Proceeds from the run benefit Sacred Heart Cathedral School.