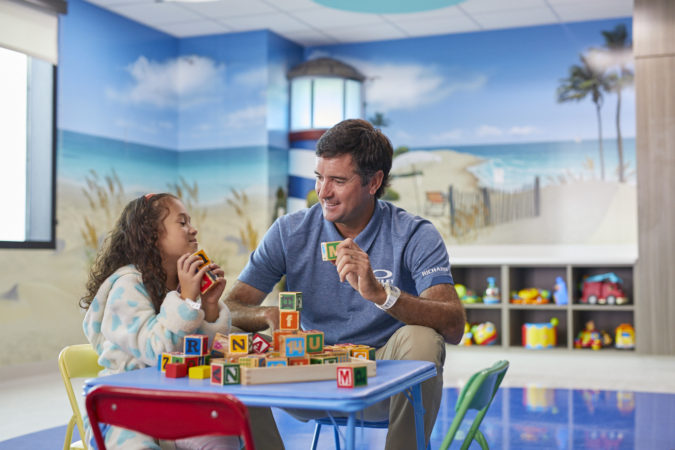 To support the efforts of Studer Family Children's Hospital at Ascension Sacred Heart to serve children from across the Gulf Coast region, especially kids living in poverty and those most vulnerable, starting this week, professional golfer Bubba Watson will star in a series of commercials as part of a new marketing and branding campaign focusing on the highly specialized pediatric care provided at his hometown hospital, the Studer Family Children's Hospital at Ascension Sacred Heart. The new "Helping Out" commercials highlight Bubba's sense of humor and passion for serving his community and the local children's hospital.
Bubba, a resident of Pensacola who was born at Ascension Sacred Heart Pensacola, and his wife, Angie, have made generous donations toward the construction of the new four-story children's hospital, which opened in May. To recognize the ongoing support of the Watson family, the entrance road to the new Children's Hospital was officially named Bubba Watson Drive. Bubba has won 12 championships on the PGA Tour and is a two-time winner of the Masters Tournament.
Thanks to Bubba giving generously of his time, in the various commercial spots Bubba can be seen soothing a baby in the hospital's neonatal intensive care unit, cheering on a surgeon, conferring with a radiologist, coaching young golfers in the outdoor Mother Seton Children's Garden and joking with kids in the Children's Hospital's dog park. As a father of two, Bubba even positions his wife's and children's initials – as well as the numbers 12 and 14, representing his Masters Tournament wins in 2012 and 2014 – while building blocks with patients in the Children's Hospital playroom.
While the hospital staff understands that for families, being in the hospital is no laughing matter, this lighthearted ad campaign focuses on what makes a visit to Studer Family Children's Hospital special – it's a facility designed from the ground up with a child's needs in mind and with a promise to provide compassionate, personalized care for all families. The new TV ads are part of a fully integrated campaign designed to build broad awareness and promote increased access to pediatric services.
"As a professional golfer, I have experienced firsthand how fast the world moves on. One day, I can win a tournament and feel like I'm on top of the world. The next day, a new tournament starts, and it's like the week before never happened. When the world moves so quickly, you begin to ask yourself how to make a long-term difference, one that will last for generations to come," said Watson. "I found a way to make that long-term difference by helping to bring children and families the treatment they deserve close to home. I can't thank the doctors, nurses and entire team enough for going above and beyond, listening to understand the needs of our young patients, and for taking great care of their families and loved ones."
"Children are among the most vulnerable populations in society, and providing world class care in a time of need is at the heart of our Mission," said Nick Ragone, Executive Vice President and Chief Marketing Officer, Ascension. "We're blessed to have such an extraordinary care team at Studer Family Children's Hospital and across Ascension Sacred Heart."
"Bubba and Angie Watson have been generous friends and tireless advocates of the Children's Hospital for several years," said Will Condon, president of the Studer Family Children's Hospital.
"We are extremely grateful that the Watson family continues to serve as champions for those we serve. Their influence and ongoing support helps ensure that all sick or injured children along the Gulf Coast will have access to the most advanced treatments and compassionate care in a kid-friendly healing environment."
In May 2019, the new Studer Family Children's Hospital at Ascension Sacred Heart opened for patient care. This expansion enables more sick and injured children to receive specialized care from Northwest Florida's only children's hospital.
For more information, visit www.studerfamilychildrenshospital.com.