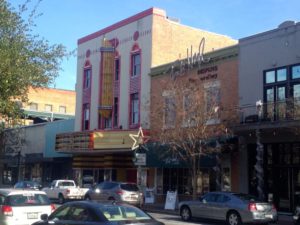 The non-profit organization that purchased The REX Theatre in downtown Pensacola is on a quest to collect memories from those who watched movies, went on dates or worked at The REX during its heyday as a movie theatre on North Palafox Street.
Built more than one hundred years ago, the historic REX building was purchased earlier this year by Harvest Outreach, which will open it in early 2015 as a venue for public theatre, music, arts and other special events, as well as for weekend services for Harvest Church.
"This beautiful theatre has a lot of stories to tell, and they are an important and valuable piece of Pensacola's history that we don't want to lose." said Bobby Lepinay, president of Harvest Outreach and lead pastor for Harvest Church. The stories will be compiled and shared on the website and social media sites for The REX, and will be preserved as part of the permanent history of the theatre.
Stories and photos, along with name and address, should be sent by email to media@rexpensacola.com or by U.S. mail to 1110 N. Palafox St. Pensacola, FL 32501. Those who submit stories will also get a special invitation to the grand opening of The REX in 2015.
The REX Project
The building that housed The REX was originally constructed around 1910 as the Rhodes-Collins furniture store. In 1938, Rhodes-Collins moved and the building was converted to the Rex Motion Picture Theater.
The REX survived until 1977 when it was closed and donated to the City of Pensacola. Investors purchased The REX in 1982 and restored it to the Rex Cinema and Drafthouse Theater, but it closed again to the public in 1986.
The REX stood empty once more until it was purchased in 2014 by Harvest Outreach, Inc. which, along with local architects Quina Grundhoefer Architects and local general contractors Greenhut Construction Company, is restoring the façade of The REX to its original state and renovating the interior to more energy-efficient standards to be used for a variety of performing arts and other events.
Harvest Outreach and The REX Theater
Harvest Outreach is committed to supporting the successful renaissance of downtown Pensacola along North Palafox Street, and to preserve the important history of the city of Pensacola. The REX will be available not only for the church activities of Harvest Church but also for family-friendly arts, music, theatre and other events. It will be the first public use of the building since it closed in 1986. For more information on the restoration project, or to donate to The REX Revitalization fund, visit www.REXPensacola.com.