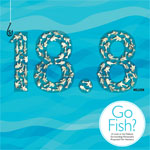 The City of Pensacola Environmental Advisory Board will meet on Wednesday, March 26, 2014 beginning at 2 p.m. in the Vince Whibbs, Sr. Conference Room, 1st floor, City Hall, 222 West Main Street. The agenda for this meeting is posted on the City's website:  http://cityofpensacola.com/AgendaCenter/Environmental-Advisory-Board-10/?#03262014-577
Under Old Business is the fish hatchery. The agenda packet includes a letter from Gil McRae of Florida Fish and Wildlife Conservation Commission to Chasidy Hobbs, who chairs the advisory.
McRae says that under the Memorandum of Understanding with the City of Pensacola, the FWC will establish a Planning Coordination Committee and a Technical Coordination Committee to "guide the planning, design, and operation of the facility." Both will be made up of appointees made by the FWC and the City.
FWC is committed to cleaning up and improving the site on Bruce Beach. including removing the construction debris that litters the site.
FWC is committed to including "recreational, public access improvements and cultural/historical elements" in its site planning efforts. It will also explore the feasibility of adding a kayak/canoe launch. And FWC is working with community representatives to add cultural education elements to the site.
Read FWCMarch14