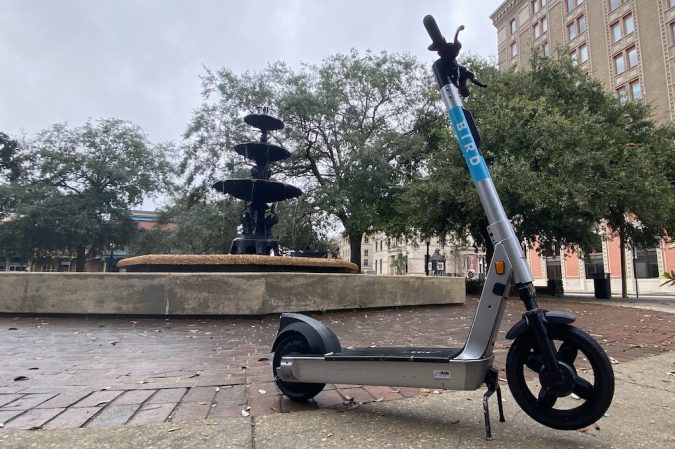 by Jeremy Morrison
To curb inappropriate usage of electric rental scooters in the downtown area, the city of Pensacola is looking to tighten up some of the regulations relating to the devices. The Pensacola City Council gave its initial nod to the changes, including limiting the scooters' hours available and will likely codify them in February.
Pensacola entered into a relationship with Bird rental scooters about six months ago and is currently in the middle of a year-long pilot program during which officials are assessing how the scooter can best integrate into the city's landscape. Since scooters first started whizzing to and fro in the city, there have been issues with questionable scooter usage, reports of inebriated riders, and complaints from downtown business owners and patrons. There have also been accidents involving vehicles and scooters.
Changes to a municipal ordinance that the city will likely approve next month include banning the scooters from midnight to 5 a.m. and restricting their use on sidewalks. Initially, the city's proposed changes sidelined the scooters beginning at 10 p.m., but that was pushed back to midnight upon further consideration.
"A lot of people appreciate being able to use it to travel back to their cars when they get out of the different venues and restaurants and things," said Councilwoman Teniade Broughton, pointing out the need for the later cutoff time.
City council was also originally considering only applying this blackout period for a limited area, or 'box' of downtown, a concept submitted by Bird. Mayor Grover Robinson described the suggested area as "insufficient" and pushed for "a little bit more comprehensive box."
"I think we need to expand the box," Robinson said, pointing out that the area recommended by the company left open spaces such as the Palafox Pier, an area the city considers to be a hotspot when it comes to issues with rental scooters.
Council members shared Mayor Robinson's take.
"I kind of like the idea of the whole system being down during that time period and not having a box," suggested Councilman Casey Jones.
City council members will make a final decision on these changes to the municipal ordinance about electric rental scooters next month. In addition to instituting the blackout period and banning the scooters from downtown sidewalks, the council will also be considering other proposed ordinance changes. The city will likely ban the devices from operating on a handful of downtown streets, including Cervantes Street, North 9th Avenue, Garden Street and Barrancas Avenue. And riders will probably be required to verify that they are 18 or older; earlier this month, Bird added a feature on its app requiring riders to upload a photo of their driver's license to verify age.
Currently, Bird is the only scooter rental company operating in Pensacola. Under the trial program this year, a second company, VEO, has also been green-lighted to rent scooters in the city. Unlike Bird, VEO's scooters allow riders to sit down instead of standing up.