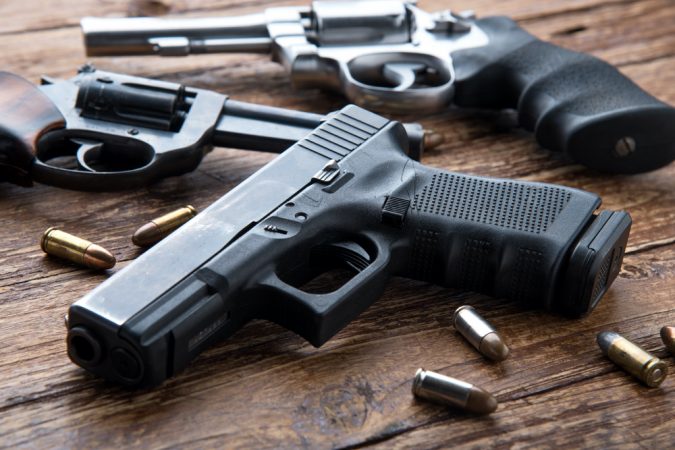 by Jeremy Morrison, Inweekly
The City of Pensacola may be taking a direct approach to getting guns off the street: buying the weapons, no questions asked.
Mayor Grover Robinson addressed the issue Wednesday during his regular Facebook Live Q&A session, describing the effort as "exciting."
"We're putting $10,000 in it to start it and seeing what we can do. Starting small, seeing what benefit we can create by it," Mayor Robinson said. "We certainly want to try what we can to pull some of these guns off the street."
This municipal gun buyback effort originated with District 7 Pensacola City Councilman Delarian Wiggins, who was elected to office in November. The Pensacola City Council will be taking up the issue at its Jan. 21 meeting, deciding whether or not to pursue such a program.
Robinson said that he was supportive of the buyback effort and was glad to see Wiggins initiate the discussion.
"He came to me about it and said it was something he wanted to move forward," the mayor said. "I told him, 'hey, let's go try it, make it happen.'"
The mayor also said noted that he thought it appropriate the effort was originating out of District 7: "There's no doubt that we've seen gun violence throughout the city of Pensacola, but probably within the city limits, the biggest impact we've had is over on the west side, certainly in District 7."
If the city council moves forward with the gun buyback program, Pensacola Police Department will coordinate the initiative.
What Did Trump Visit Cost Us?
Last week during Mayor Robinson's online Q&A session, he was asked about the city's costs when former president Donald Trump visited the area last fall. This week he responded, saying that "there was no real cost one way or another."
"There was very little spent if anything," Mayor Robinson said. "We didn't spend anything on it; we didn't have to. That's why the airport was a perfect venue for that stop."
Robinson — who never provided an actual dollar amount — said that because Trump's visit was a fly-in-fly-out affair confined to a hangar at the Pensacola International Airport, and because he brought his own security detail, that the city dodged the traditionally hefty costs associated with securing any routes around town that might have been traveled otherwise.
COVID & 'The Light at the End of the Tunnel'
With local COVID numbers continuing to hover in alarming territory, Mayor Robinson also took the opportunity Wednesday to again urge people to practice basic safety precautions such as wearing masks in public and practicing social distancing.
"We still need to be vigilant of the same things," Robinson said. "There's a light at the end of the tunnel, but the only way we get there is doing what we've asked you to do and by people getting vaccines."
On Wednesday, local COVID-related hospitalizations were at 261. That was actually down from last week's peak of 291.
"We are still working through this and need everyone working together, but this is sort of where we find ourselves at this particular time — we're plateauing, which is a good thing," Robinson said, adding that he hoped the hospitalization numbers would soon begin a downward trend.
The mayor also addressed the issue of vaccines, explaining that the region was currently at the mercy of its allotted supply: "The demand in Florida is still outpacing the supply of the vaccine."
Robinson said he expected that vaccine doses would be readily available to anyone who wanted one by May or June. And local healthcare professionals are hopeful that a positive impact from already-provided vaccines may be felt months before that.
"They're still thinking sometime in that March timeframe we'll start to see a benefit from the vaccinations," Robinson said.