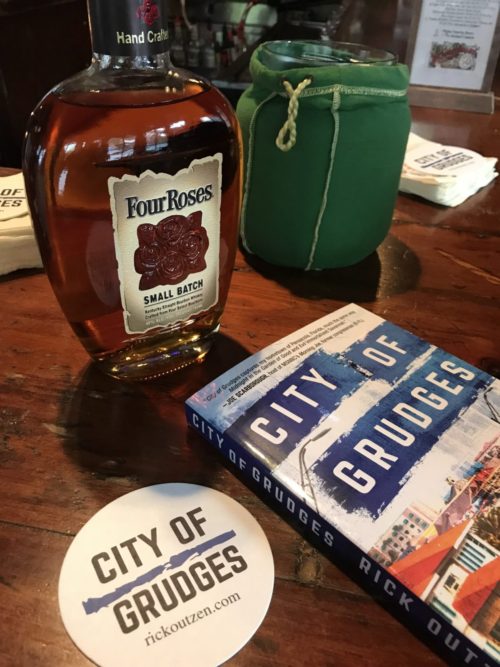 We are holding a prelaunch book signing for my thriller "City of Grudges" tonight at the Atlas Oyster House from 5-6 p.m. We have a limited number of books available so its first come, first serve.
To date, the book trailer has had nearly 3,600 views. Amazon has begun to ship the pre-orders and restocked for additional orders. The actual release date for the book is March 13. We have book signings scheduled for Barnes & Noble in Pensacola for March 24 and Page & Palette in Fairhope, Ala. for April 19.
We have received several endorsements:
City of Grudges captures my hometown of Pensacola, Florida, much the same way Midnight in the Garden of Good and Evil immortalized Savannah. Rick Outzen's Southern thriller moves his colorful characters through the corruption of small town politics under the piercing gaze of Walker Holmes―a newspaper publisher that his friends either want to have a drink with or punch out. Readers get a gripping front row seat of Walker's wild ride.―Joe Scarborough, co-host of Morning Joe
"Outzen's twenty-year experience as a newspaper journalist has shaped him into an innovative and skilled storyteller. His first novel captures the voice of the Deep South in a way that would make Flannery O'Connor proud." –Mike Papantonio, trial attorney, bestselling author, host of "America's Lawyer"
"With City of Grudges, Rick Outzen directs the Florida glare onto his adopted city of Pensacola as brilliantly as Carl Hiaasen has done for so many years for South Florida. Corruption, dead bodies, and smooth, wise-cracking dialogue pile up as quickly as cars in an I-10 fender- bender." –W. Hodding Carter, bestselling author
If you would like to read more about the book, check out this article and review.