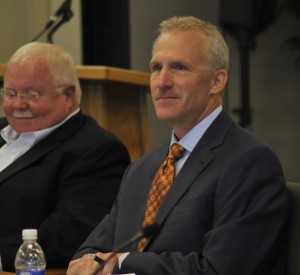 City Administrator Eric Olson delivered to the city council a slew of documents regarding the Long Hollow Radio Tower just hours before its meeting yesterday. Several of the records had not been given to Melanie Nichols' group despite numerous public record requests.
Nichols had only been given one Certificate of Insurance for the tower and it had expired August 2013, COI_August2013. On Sept. 17, Nichols again asked for Certificates of Insurance for the period from August 2013 to August 2016, and the city said they had none: NoCOI.
Councilman Brian Spencer told Inweekly yesterday that he had repeatedly asked city staff for a current Certificate of Insurance and had they failed to provide him one. He said he had been told that CFO Dick Barker had an employee responsible for keeping up with Certificates of Insurance, but that position had been eliminated.
Last night the city was given a Certificate of Insurance that had started December 2014.
Olson's packet included inspection reports of the work from July 2015, Inspections_July2015. However, those reports were not given to Nichols. On Nov. 3, City PIO Vernon Stewart told a PNJ reporter, "The engineered construction plans were reviewed, permitted and inspected. The permit was issued to Gulf Coast Building Contractors and the final inspection on the tower was completed on August 7th, 2015."
The following day, Nichols asked Stewart and Maxwell Branham, Public Records Coordinator, for the inspections reports. She told Inweekly that they never produced any inspections, only a computer screenshot that noted the final inspection was Aug. 7.
Here are some of the documents Olson provided the city council yesterday afternoon:
151112 ENCL – (a) Timeline of Events relating to the Construction & Permitting of the Tower
151112 MEMO – Long Hollow Communications Tower
Here is the legal opinion provided by City Attorney Lysia Bowling, which is similar to the argument Edward P. Fleming, Divine Communication's attorney, made to Inweekly yesterday: CA_Tower.
Jeremy Morrison covered the council meeting for Inweekly. His reports will be posted later this morning.