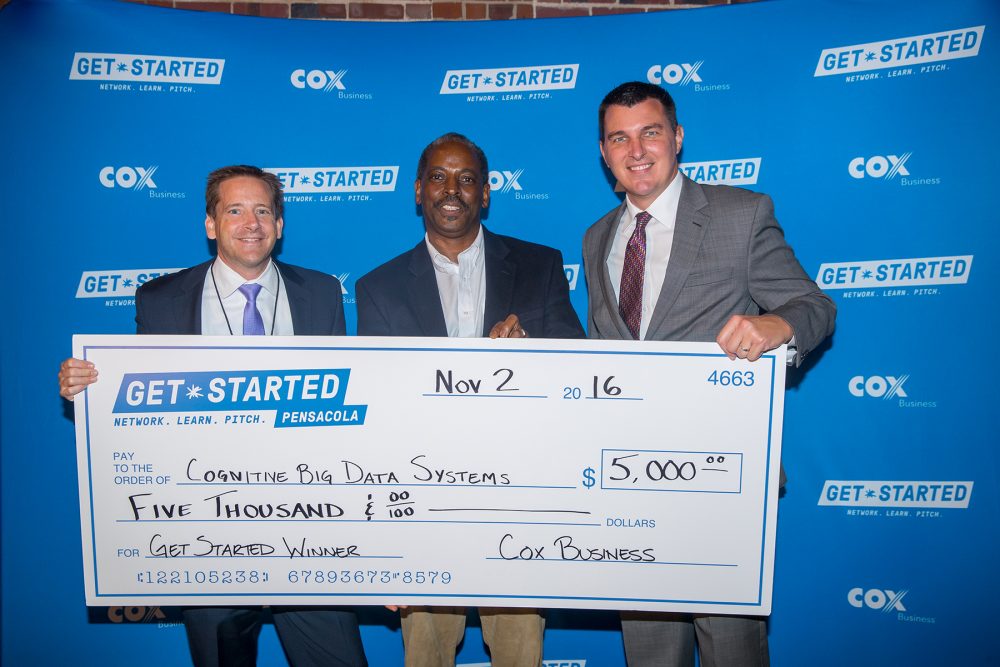 Over 100 community leaders and local business owners watched as Cognitive Big Data Systems was selected the winner of the 2016 Get Started Pensacola event, presented by Cox Business, held last night at the Pensacola Little Theatre. Cognitive Big Data Systems takes home a prize package worth up to $20,000 to assist in the development of their business. Cognitive Big Data Systems' computer vision app uses creative machine learning technologies to learn the pixel patterns from each camera's video stream to understand what's normal at that location and generates both threat and business intelligence information on the fly.
"I feel very emotional right now. We've put a lot of hard work in. It means a lot to be recognized," Lloyd Reshard of Cognitive Big Data Systems said after being named winner of the competition. "We entrepreneurs, we spin our wheels quite a bit doing things, but it's better if you can work within a framework knowing you're not spending your time doing the wrong thing, or you don't know if somebody wants it. So, this event is just what Pensacola needed to stir up some entrepreneurship stuff and give folks a chance."
More than 30 local businesses applied to pitch at the event. Five businesses were selected as finalists and pitched their ideas or business plans to a panel of experts in front of a live audience. After much deliberation, Cognitive Big Data Systems was selected as the winner.
"I'd like to congratulate Cognitive Big Data Systems for their outstanding pitch at Get Started Pensacola," said Harbin Bolton, vice-president of Cox Business Florida/Georgia. "All of our finalists demonstrated great products and business plans. It's exciting to see these types of ideas and entrepreneurs along the Gulf Coast. Cox Business looks forward to working with these groups to help their businesses grow."
Each organization delivered a two and a half minute pitch to a panel of successful entrepreneurs and business experts. After votes were collected, Cognitive Big Data Systems was named the winner and recipient of the prize package valued at more than $20,000, including $5,000 in cash, a Cox Business technology package and additional prizes from local partners.