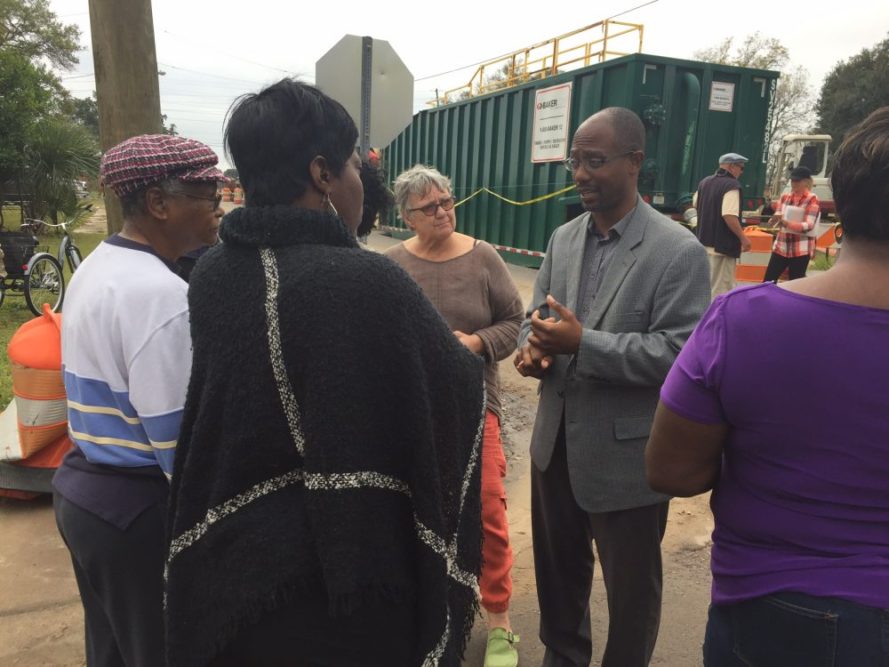 Escambia County Commissioner Lumon May toured the enormous Government Street stormwater pond and listened to local residents' and business owners' fears of soil contamination and complaints about round-the-clock work at the project and lack of fencing around the stormwater pond.
"The safety of the citizens is important to me," May told the small crowd that included county officials. "I asked for a tour of the site so I could intelligently talk about it. It's my responsibility to articulate your concerns."
May was the only elected official there. Mayor Ashton Hayward and city council members did not show up.
The city is spending over $3 million to build the hourglass-shaped pond in the Tanyard neighborhood where Corrine Jones Park used to be.
The county received results from the tests of four soil samples taken around the pond and reported that contamination levels were not harmful to people.
Large water filtration systems, which run 24/7 and hum loudly in the neighborhood, have removed 40 million gallons of water, city officials said. The system is scheduled to be shut down at 5 p.m. today.
Meanwhile, large excavation machines will be done digging today and will be removed, while temporary orange fencing is scheduled to go up around the drainage pond, a city public works representative said.
Tanyard Neighborhood Association President Marilyn Wiggins, who lives in a house about 25 yards from the city project, said the community just wants answers and have been unable to get them from elected officials.
"We deserve a lot more than they've given us," Wiggins said. "We've got to hold these people (politicians) responsible."
Jellie Whitehurst added: "The mayor won't even pick up his phone. He won't even talk to us."
Hazel Johnson said: "There are toxins out there and we would like to know what they are."
Escambia County environmental official Chips Kirschenfeld reported that soil tests received Tuesday night found that the soil contamination levels around the stormwater pond and county's old mosquito control facility pose "no human health concern."