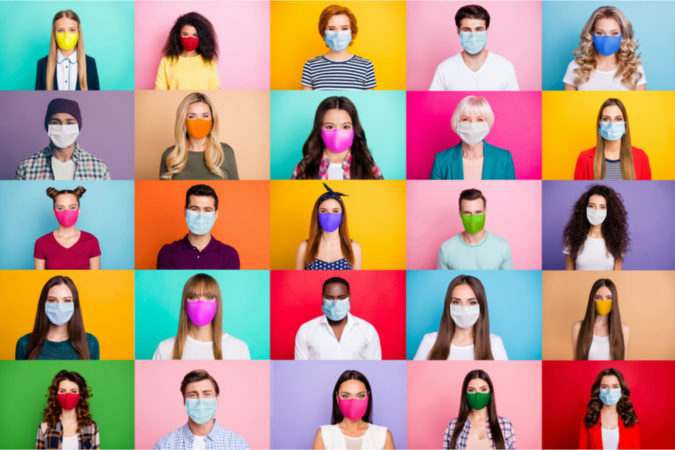 by Jeremy Morrison, Inweekly
There's gonna be some pushback when Mayor Grover Robinson asks the Pensacola City Council to drop the city's mask mandate.
"Too soon," said Ann Hill, who represents District 6 on the city council.
"Now is not the time to relax the mandate," said District 2 council member Sherri Myers.
City council enacted its mask order — which requires the wearing of a mask in public businesses — as the state's coronavirus spike began its sharp incline earlier in the summer. But Mayor Robinson is asking council to rescind the order because the number of COVID-related hospitalizations have declined.
"We've come down over a hundred hospitalizations in a month," noted the mayor Wednesday, adding that other data points, such as tests positivity rates, also looked encouraging.
But concerns will be raised Thursday night when Robinson brings this matter before city council.
"I will not support doing away with the mandatory mask ordinance," said Myers, suggesting that the council should consider the issue further, perhaps conduct a public workshop. "We need to ask our healthcare and our medical professionals to weigh in on this and not just take the mayor's logic."
Both Myers and Hill said that feedback they're getting from constituents is overwhelmingly supportive of leaving the mask order in place.
"I could forward at least a dozen pro-mandate emails I've received in the past couple of days," Hill said.
"I've gotten lots of emails from people, not one person has supported doing away with masks," Myers said. "I've gotten at least four doctors who have begged us not to repeal the mask ordinance."
One of the doctors who wrote to Myers, as well as the other six council members, was Dr. Pallavi Sindhu, who called the mayor's position "not clinically sound judgement" and urged council to leave the order in place until a COVID vaccine has been developed.
"The reason our COVID cases are going down is in part [due] to masking and social distancing," Sindhu wrote. "I believe that removing the masking mandate will cause our numbers to go up and will put my health, my patients' health and my family's health at risk."
Dr. Jennifer Thompson, a local pediatrician, was another of the doctors to write council members, stressing that the mask order "has been crucial in decreasing the spread of COVID-19 and is essential to continue."
"As physicians, we know that prevention is key. We do not automatically stop a preventative measure because a child is healthy or there is less disease, we continue it to be sure there is continued good health. The preventative measure is often the reason there is less disease. If you stop it, the disease increases and subsequent harm to the patient ensues," Thompson wrote. "If you stop the mask mandate, COVID-19 will increase in incidence, more people will die and the pandemic will continue."
In addition to hearing from members of the medical community, city council members and the mayor have also heard from other notable voices regarding this issue.
John Peacock, former chairman of the Downtown Improvement Board, told council that it "makes no sense" to drop the mask order: "The last thing we need is a spike during the fall and have to roll back reopening of businesses."
Economist Rick Harper wrote to city officials to tell them that "lifting the mask mandate prematurely is counterproductive for our community": "The sooner we get rid of COVID-19 , the sooner things can return to normal. To give the City's stamp of approval to reduced efforts to fight the spread of COVID-19 invites a rebound in the disease, a rebound in hospitalizations and deaths, and a lengthening of the period of economic damage to our community."
And Stacey Kostevicki, executive director of Gulf Coast Kids House, contended that the city's mask order had brought "a level of comfort" to the community: "It made 'masking up' normal and acceptable. I fear without an ordinance, that small businesses and agencies, such as mine, will have a harder time requiring anyone entering our facility to wear a mask. Making it a rule v. optional feels like a tremendous step backward to me."
That last point resonates with Councilwoman Myers. She said she knows people who drive into Pensacola to shop because the city has a mask order, whereas Escambia County does not.
"A lot of people tell me they come to Pensacola to shop because they feel safer," Myers said, adding that she agreed with this rationale. "I don't shop out in the county."
— The Pensacola City Council will consider Mayor Robinson's request to drop the city's mask order during its meeting Thursday, which begins at 5:30 p.m.